Sorry for the delay. Mount and Blade 2 is out.
January 1921
Last week's readership made three strong suggestions:
Stick with new battleships, rather than big refreshes of old ships. (I may still do one now and again, as budget allows, just to start bringing the fleet speed up to 24 or 25 knots.)
Build some airbases in northern France, given the proximity of that part of the country to two major potential foes.
Build another seaplane carrier or two. The most important thing aviation can do for us right now is to provide fleet scouting, and seaplane carriers are a way to do that without spending aircraft carrier money.
To those suggestions, I add my own item:
Start refreshing our old light cruisers with a new, cheap model for foreign service.
We'll see how much we get done. I'll start with two airbases, one at Cherbourg and one at Dunkerque.
February 1921
We have a shot at an alliance. I try Britain again, but they turn us down.
April 1921
A mild crisis (a cruiser of ours runs aground off of a neutral power's shore while conducting wireless intercept operations) sees tensions up to about the midpoint with Germany, Austria, Italy, and Britain, but buys us some extra budget in exchange.
July 1921
Nieuport gets the nod for our next-generation flying boat. It's quite a bit faster than our old one, and has a range in excess of 250 nautical miles—an excellent scout.
September 1921

The British aren't messing around with their new dreadnought.
October 1921
The money's on hand for a seaplane carrier now. This one is somewhat more capable than our previous two.
In particular, it has AA guns, and carries 10 seaplanes instead of 5. It should make a good fleet scout in the future.
February 1922
With the seaplane carrier well on its way, I can now turn my attention to a light cruiser.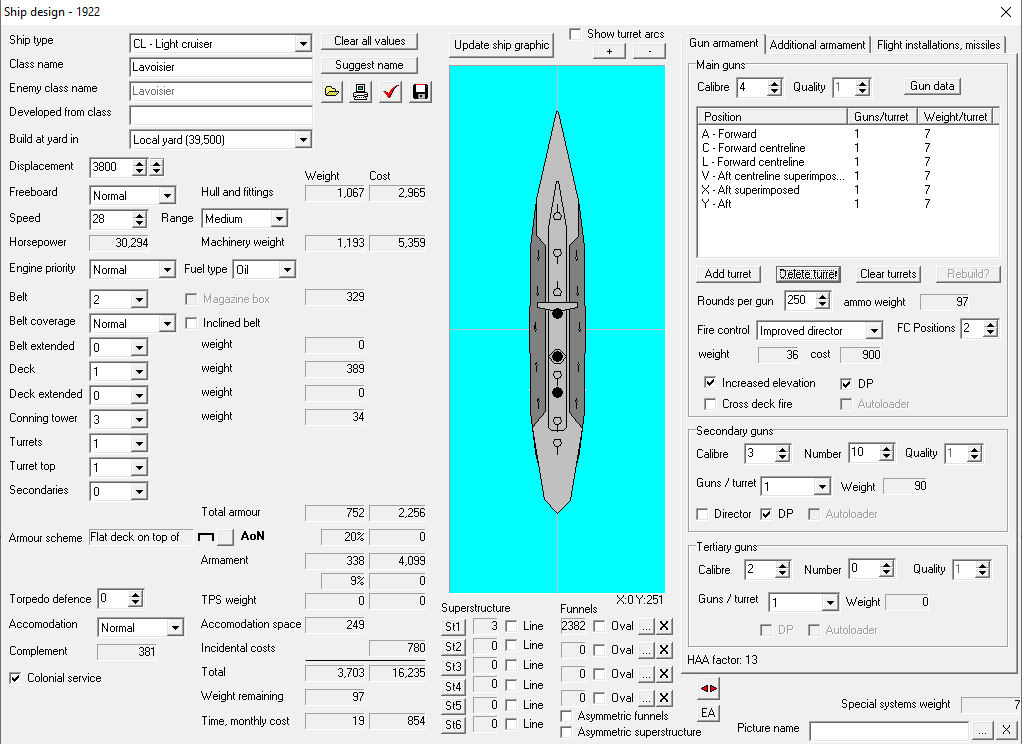 I wanted to call the class Lavoisier, but forgot I still have some of those around. I settled for Condillac instead, and will call the first ship Lavoisier.
May 1922
The Germans are saber-rattling again; tensions continue to creep upwards with them.
June 1922
A peace conference in the midst of tensions with Germany produces no results, but does slightly lower tensions across the board.
July 1922
The Austrians catch a French spy. I elect to make him a national hero, but the Austrians barely respond to the provocation.
September 1922
The defense minister wants 15 new destroyers building. I don't intend to have that many going at once, but I am willing to take his money and try a new design.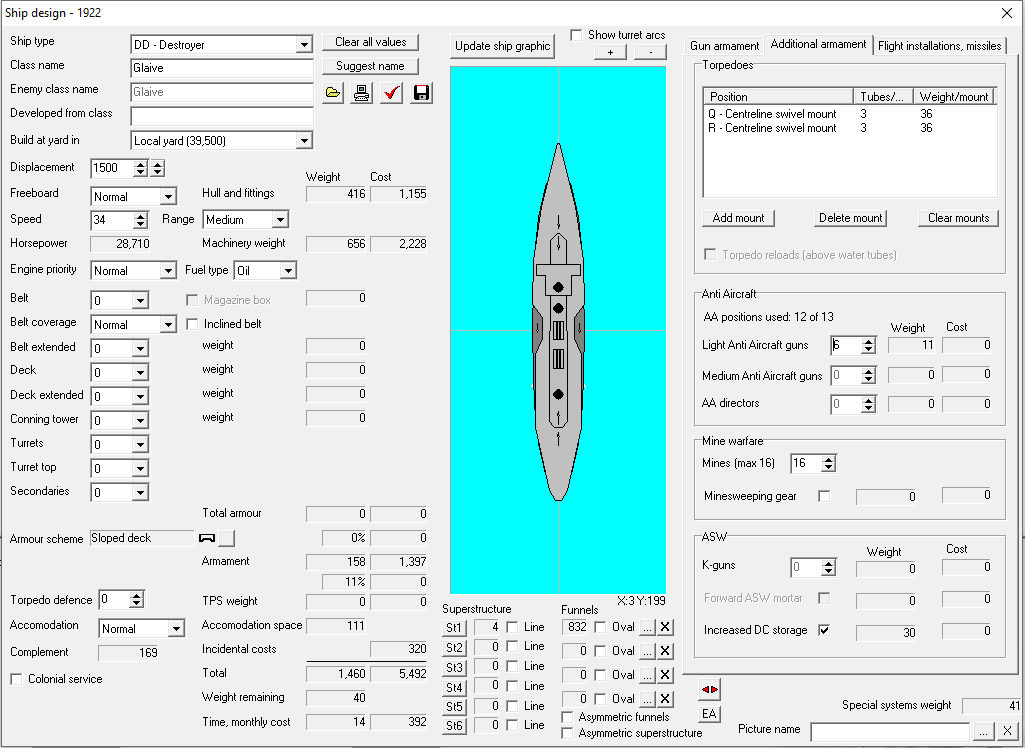 The Glaive class has six torpedo tubes, four turrets in a superfiring-fore-and-aft arrangement, mines, and a moderately heavy anti-aircraft armament.
October 1922
We've secured a new colony in Albania! The only problem is that it bumped tensions with Germany considerably above the halfway mark.
January 1923
All in all, a quiet two years, although war with Germany is looking increasingly likely.
Interlude: Fleet Exercise
I wanted to show some of the ups and downs of early carrier combat, and the fleet exercise is a natural way to handle that. Pay a bit of cash, get some fleet experience in return.
Money is a bit too tight for that, though, so I'm going to savescum it as an exercise in battle-writing. In-universe, we'll say it's junior staff officers messing around with chits and a mapboard.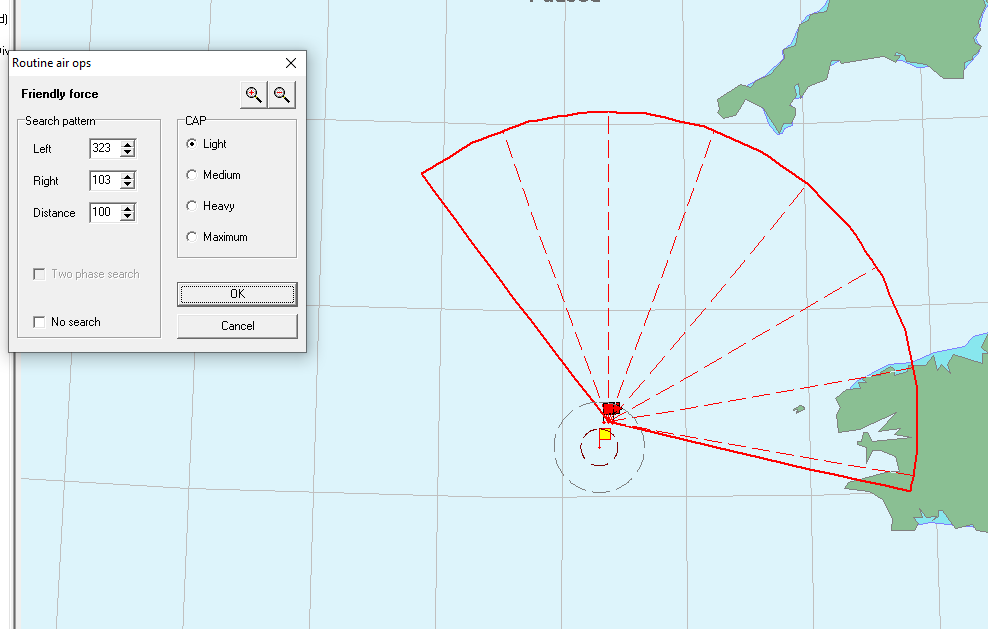 1:20 p.m.
Amiral Charner, our lone CVL, cruises in company with two light cruisers, three destroyers, and a seaplane carrier. Altogether, they are Team Red. The enemy fleet, Team Blue, is Redoubtable, a mid-tier battleship, and an exact mirror of Team Red's supporting force.
We've started at standard range, because this whole aircraft carrier thing is very new, and we're not sure how it's going to play out.
As a quick reminder, Amiral Charner's air group is eight fighters and fourteen torpedo bombers.
Given that Team Red knows Team Blue is in the area, Amiral Charner prepares a strike. She has room on deck to spot thirteen planes. I expect we'll have the enemy in sight before crowding out our CAP becomes a problem.

1:33 p.m.
Our light cruisers, ten miles in Amiral Charner's van, spot the enemy. The carrier and her supporting seaplane carrier turn away, while the light cruisers prepare to run interference—and hopefully spot the enemy battleship.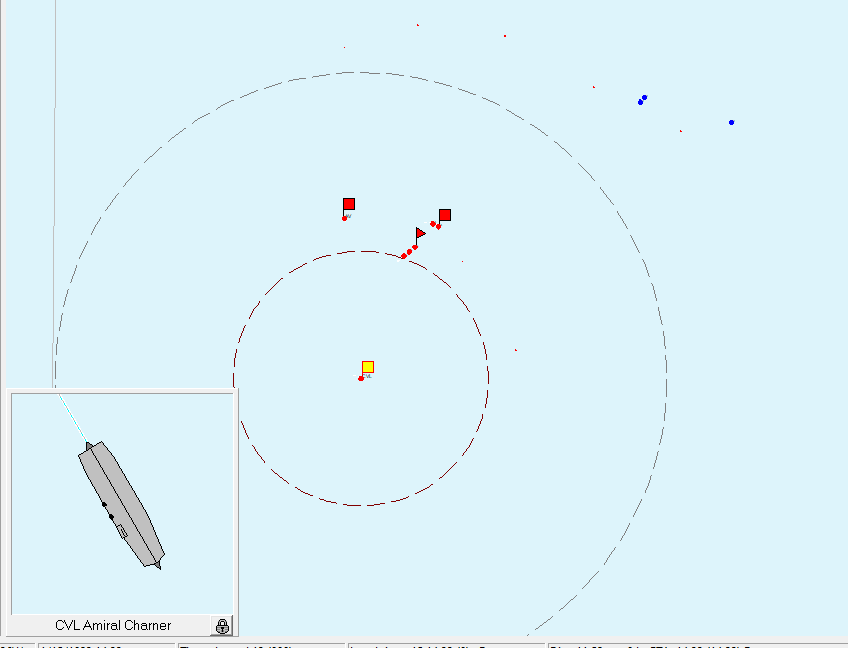 The red specks are aircraft formations.
The wind is out of the east-northeast, problematic given the range and location of the enemy forces.
1:55 p.m.
The light cruisers spot an enemy ship sailing a) toward the battle and b) solo, which is probably the battleship.
2:30 p.m.
The light cruisers and scouts confirm that it is indeed the battleship.
A strike takes a little while to ready and spot, and in the meantime, reconnaissance aircraft and CAP planes are returning, clogging the deck.
3:45 p.m.
By the time that the deck is clear, and that your intrepid correspondent remembers that he has to check the boxes next to the aircraft rows to actually give them orders, not just highlight the rows, the opportunity is lost. The January sunset fades into a wintery night, and the scenario ends without combat.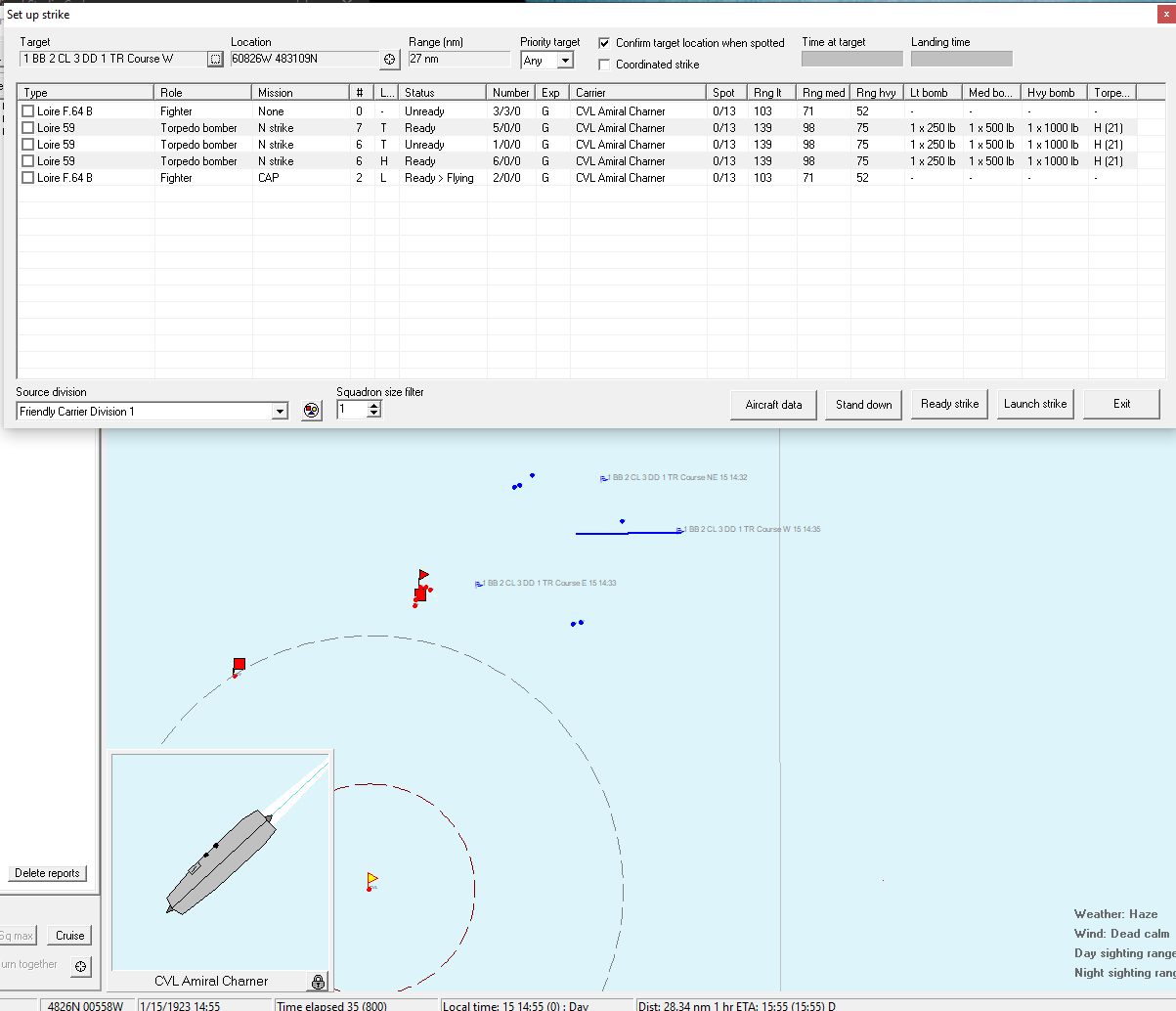 We'll try this again in the summer, provided we aren't at war with someone by then.
Plans and Intentions
Research
We uncovered two major technological items: improved directors on the fire control front, and torpedo protection 3, which adds (still more) weight but protects better against torpedoes.
Our current research priorities are naval aviation, anti-submarine technology, and turrets and gun mountings. Should we leave it that way, or focus on other items (light forces, guns, amphibious operations, machinery and hull design, other things)?
Shipbuilding
Ocean is nearly complete—she'll be ready in three months. Should we build a slightly improved version when she's done, improving her fire control and torpedo protection?
Should we perhaps build a battleship with an eye toward survivability in the coming age of aircraft? That is, heavy deck armor, lots of room for anti-aircraft firepower, and battlecruiser speed? Should we hold off on more battleships altogether?
Soon, we'll be able to convert ships to full-size carriers. The 24-knot Duquesnes seem like perfect candidates—their machinery is very old, so giving them reasonable speed should be easy, and they have the displacement to support an air wing of decent size.
Other ships on the ways include Commandant Teste, our large seaplane carrier, three light cruisers to take over some colonial duties, and three Glaive-class destroyers (with minelaying technology!). Should I build another seaplane carrier, or lean harder on the light forces?
In more general terms, at present, our destroyers are about 35 knots, our light cruisers and battlecruisers go 27 to 29 knots, and our battle line goes 22. Is it worth rebuilding the slower ships in the battle line (the Redoubtables, Requin) to get their speeds up to, say, 24 knots? Should I push for faster light forces?
Diplomacy
France is again a middle-tier naval power: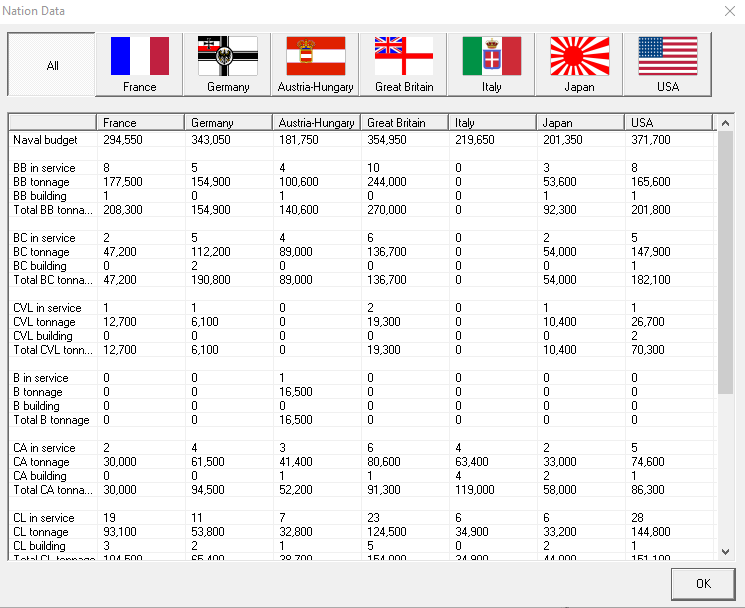 Germany has an edge on us if you count dreadnought ships in total. The US and the UK are both far ahead. Austria-Hungary, Italy, and Japan are clearly inferior.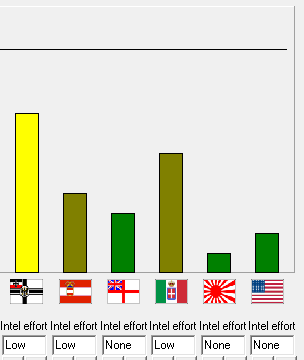 Tensions are middling. Germany is rattling sabers again.