Sorry for the unannounced skip last week—I had a lot to do and a small amount of time to do it.
January 1913
With no serious objections to the idea, I come up with the (slightly) budget-minded Rouen-class battlecruiser.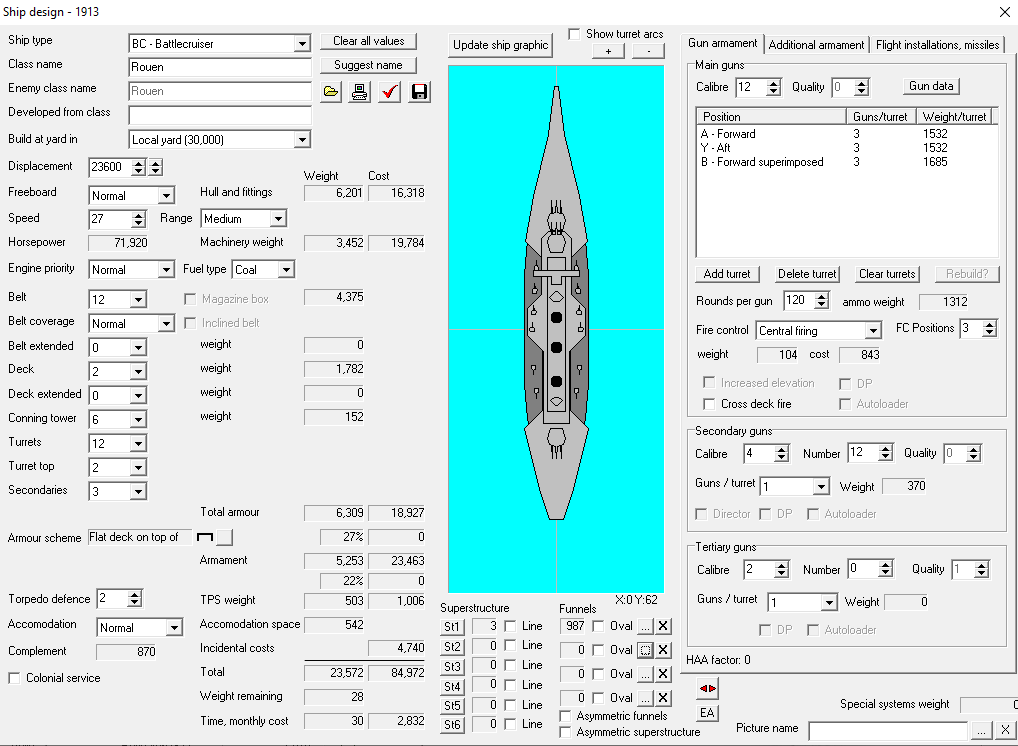 27-knot speed will make her one of the fastest heavy ships afloat, and 9 12″ guns mean she won't lack for punch.
February 1913
The battle of the month is a coastal raid in the North Sea. Combined French and British forces scour the seas for German merchants, sinking one along with an escorting corvette, but come across no other foes.
March 1913
In unfortunate news, our Redoubtable-class battleships have trouble hitting their design speed. Happily, that design speed was 23 knots instead of 22, so they're still as fast as the rest of our battle line.
The battle of the month is an enemy raid on our shipping.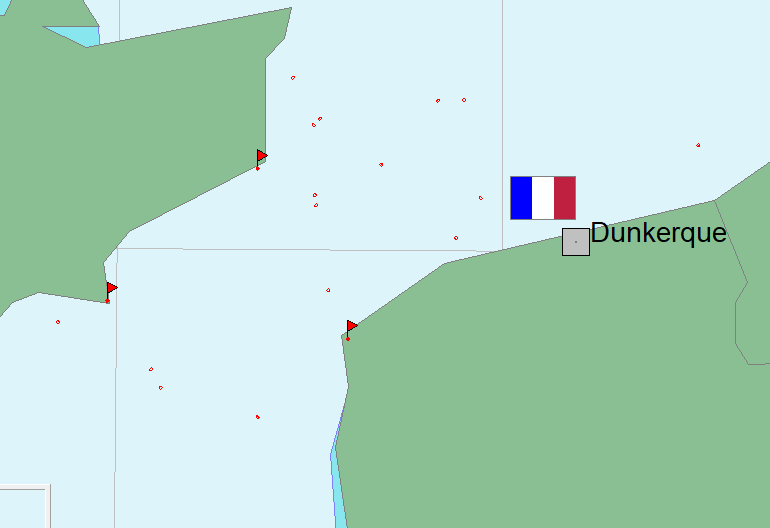 The English Channel is a dangerous place to be if you aren't English or French—heavy minefields protect the narrows. (The little red dots indicate mined areas. This is what the large blue circles around German ports, if I've taken a picture of them, would have looked like to a hypothetical German player.)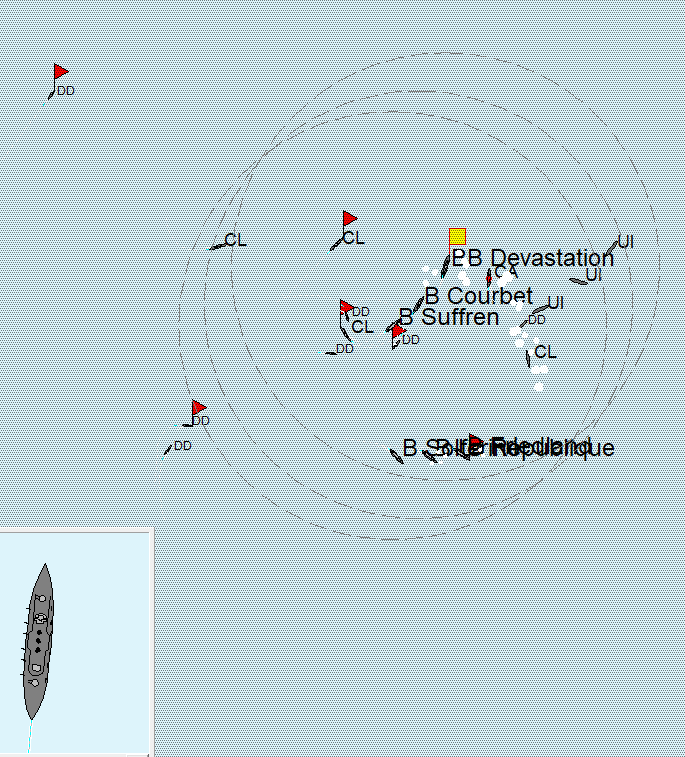 It turns into a knife-fight just after dusk, which is a bad situation for us. Our superiority is assured; there's no reason to waste our big ships on fights where torpedoes can sink them too readily. (The big advantage of the upcoming R-class battleships and battlecruisers is that they ship torpedo protection, armor against the devilishly-powerful underwater weapons.)
Reluctantly, like Jellicoe at Jutland, we turn away. Perhaps we'll be able to catch up to that damaged armored cruiser in the bottom left of the screenshot later.

Or not! That neatly solves that problem.
Suffren eats a torpedo despite our evasion, but doesn't seem critically damaged.
The French fleet pursues the fleeing Germans north through the night, but doesn't find them in the morning, and so turns back to Dunkerque.
April 1913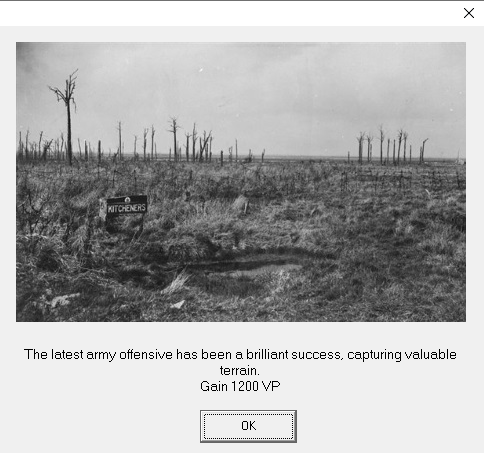 Our brothers in arms do a thing!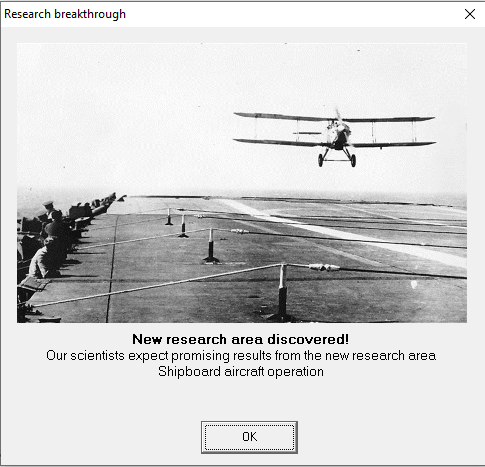 Picture two French naval engineers at a Paris cafe, a bottle of wine between them, cigarettes propped on the ashtray, smoke twisting lazily toward the darkening sky: "I wonder if zis will ever catch on."
The battle of the month is a convoy defense in the Bay of Biscay. Three Allied light cruisers face two Germans, sinking one of them.
May 1913
The Germans win a cruiser action, sinking the old Tage-class light cruiser Surcouf with a torpedo.
June 1913
The Germans win another light cruiser action, though this time without sinking anything.
July 1913
Another inconclusive North Sea battle, this one tipped very slightly in the direction of the French.
The vast German cruiser force is slowly shrinking as its ships, far from decent bases, succumb to lack of coal and mechanical issues and find themselves interned in neutral ports.
August 1913
The Germans attempt to raid the coast near Dunkerque. Today, we have Redoubtable with us, the first of our second-generation battleships.
The German forces amount to a trio of light cruisers, which escape, and six destroyers, three of which sink. Redoubtable's gunnery was… not great, but at least she's been blooded now.
September 1913
A raid into the Heligoland Bight nets a pair of merchants and one of three fleeing German light cruisers, struck by a shell from Redoubtable at almost 18,000 yards, which slowed her enough to bring her under the squadron's guns.
Germany and Italy both seem to be investing heavily in submarines: Germany has 9 and is building 30, while Italy has 20 and is building another 29.
October 1913
The Germans agree to a crushing peace deal. Good for us in the long run. Not so great in the short run—our budget is cut very nearly in half.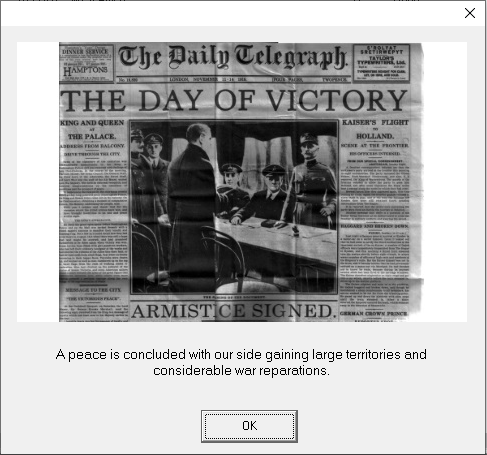 We get six points to spend on territory and/or reparations. I opt for two worthless (0-point) Pacific colonies, and leave the rest for more reparations.
November 1913
Frantically scrapping the most obsolete of our pre-dreadnoughts (the 22-knot Tridents will make either good aircraft carrier prototypes or good battle line filler, given that a line faster than 22 knots is still some time into the future, but all of the La Républiques get the axe), mothballing other ships, and halting construction of one of our new dreadnoughts, I manage to get the budget vaguely under control. I'll still have to toggle the other dreadnought on and off.
December 1913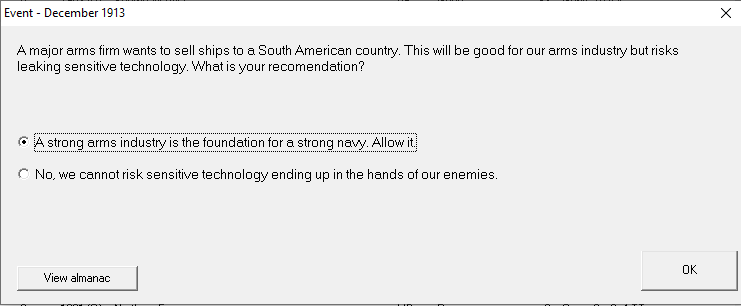 Sure thing (especially since the result is 'more budget').
French engineers have developed quality-0 14″ guns, so it may be in the cards to scrap our second Requin altogether and prepare a new class with 14-inchers as our standard going forward. Our 12″ guns are very good, but bigger, in this case, is always better.
March 1914
The budget is finally balanced enough for my liking, so I start a third ship in the new class of Lavoisier light cruisers and scrap the in-progress Colbert (the second Requin). When Requin herself is done, I'll likely start on a new battleship—although you'll have a chance to weigh in before then.
June 1914
The Naval Minister comes to me with the suggestion to build 15 new submarines. This time, I'm actually on board, and even better, the budget bump is enough to pay for 15 submarines and a quartet of new destroyers.
August 1914
Our alliance with Great Britain comes to an end. It was good while it lasted.
In other news, while scrolling through the technology list, I discovered that quadruple turrets are on the table now—a classic French design feature.
September 1914-January 1915, Update Wrap-Up
I appear to have lost my notes for these few months, so I'll take care of everything all at once.
The only really interesting development in technology is improved quadruple turrets, which eliminate the reliability penalty and open the door to all sorts of interesting forward-main-armament ships.
Italy has developed flying boats, the first of the major powers to deploy military heavier-than-air aircraft.
Diplomacy
Tensions are low all around. We're spying on the Austrians, the Italians, and the Americans (the latter only to see what the higher-tier powers are up to in terms of technology and design).
Technology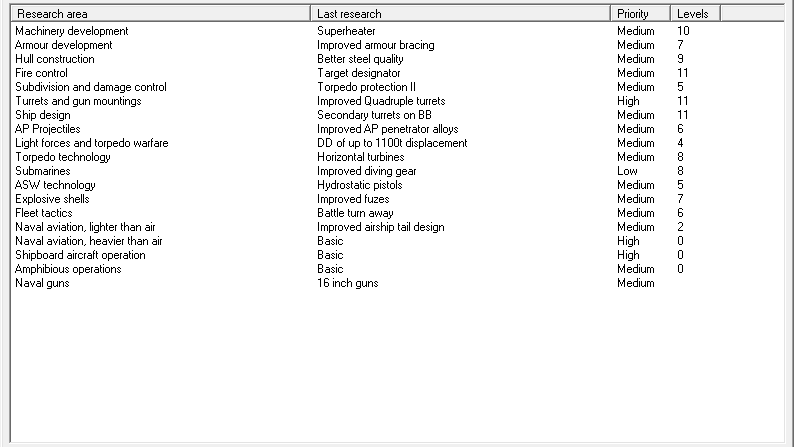 Here's where things stand. According to the almanac, we're in the middle: Germany, Britain, and the United States are 'very advanced'; France is 'average', and Japan, Italy, and Austria-Hungary are 'backward'. Our dock size, at 31,500, is a bit behind. When the submarines finish building in seven months, I think it's time to invest in a few dock expansions in succession.
The Fleet

We have seven dreadnought-type ships: two of the early Duquesne-class battlecruisers, two Lyons (which ship the fleet's heaviest guns), Devastation (our first dreadnought battleship), and two Redoubtables (our most recent dreadnought battleships).
We've retained two Tridents and three Gueydons, all of which will make fine aircraft carrier conversions when the time comes for that.
In addition to the pictured units, we have 27 destroyers of various types. The large majority are the obsolete Fauconneau class, which I'm tempted to retain as coastal protection ships—immediately putting them all into Trade Protection status when a war breaks out. They're in mothballs currently.
As far as other destroyers go, we have three Francisques (also in mothballs, also something of a liability in wartime owing to their 28-knot speed), two Pistolets (31 knots), three Hallebards, and four Balistes. Some replacement destroyers are relatively high on the list. Our light cruiser force is also in the 'large but obsolete' category. (This was not unknown in the real world. Dreadnought construction sucks the air out of a great many other kinds of shipbuilding.)
Under construction, we have the Requin, a battleship with 12 12″ guns and a 14″ belt, the Rouen, a battlecruiser with 9 12″ guns, 12″ armor, and 27-knot speed, a pair of the new Lavoisier type of 27-knot, 6″ gun light cruisers, four new 1,000-ton, 33-knot Harpon-class destroyers, and 15 submarines.
Prestige and Finance
We are currently in the very good graces of the French government, with 35 prestige. Our monthly budget is 16,883 funds, of which a mere 4,878 goes to maintenance, while 10,593 goes to new construction. Research (12%, 2,026), naval aircraft maintenance (256 for 16 airships), and spying round out the budget.
Plans
The Requin-type battleship on the ways is already a little dated. Since we have quality-0 14″ guns now, my intention is to design a new 14″ gun ship to take its place.
I'm inclined to try to keep two dreadnought ships under construction at all times, one battleship and one battlecruiser, but that may make it difficult to update our light forces. Should I sacrifice our big-ship construction program to bring the little ships up to date, or should I forge ahead in creating the best battle line millions of francs can buy?
Too, aircraft are appearing on the horizon, an ominous development for any navy which, across its entire roster, deploys zero anti-aircraft guns. Should we invest in carrier warfare as soon as we can, or stick out the dreadnought era as long as possible? Note that the balance of power between battleships and aircraft carriers shifts gradually over time—in the 1920s and early 1930s, it may be that the battleship remains king of the seas.
Anyway, that's that for this week. Hopefully next week will be at the regularly scheduled time.