Between Easter and an evening-hours project I've been working on, I didn't have time to compile the What We're Reading post this week. I'll roll our selections from this week into next week's.
February 1923

The new-model German light cruiser Thetis is broadly equivalent to our recent light cruisers, though granted with added anti-air firepower and minelaying capability. (Our next European-service light cruiser will have those issues corrected.)
March 1923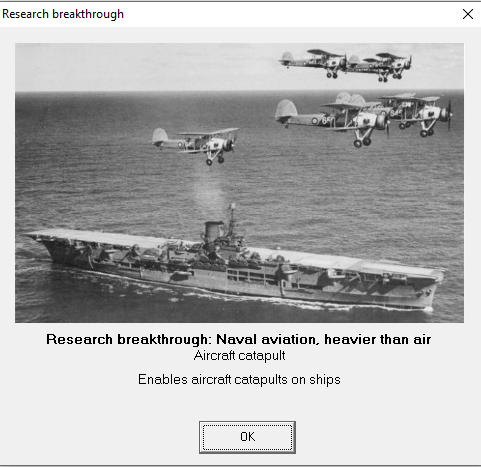 This will let us build a better seaplane tender, one which doesn't have to stop to launch a seaplane, as well as build cruisers (potentially even light cruisers) with the ability to conduct seaplane scouting.
Currently, our doctrinal preference is to use seaplanes for scouting over torpedo bombers or dive bombers. This will save us ten or fifteen planes for strikes, when the time comes for that, but float planes are slower and less reliable than wheel-equipped carrier aircraft. Something to consider in the future.
April 1923

Loire loses its place as the provider of fleet torpedo bombers.
Because we got dinged for not building enough destroyers, I elect to rebuild Requin (the last and best of our 12″ gun ships) instead of starting a new Ocean-class. This will bring her up to 25 knots, fast enough to hang with Ocean. Hopefully, when the rebuild's done, we'll have the budget in hand for a new Ocean follow-up.
May 1923
After a long, long wait, we've finally worked out how to do double gun mounts on a light cruiser. That might call for a new class—superfiring double turrets will give us a broadside advantage on known enemy light cruiser designs.
July 1923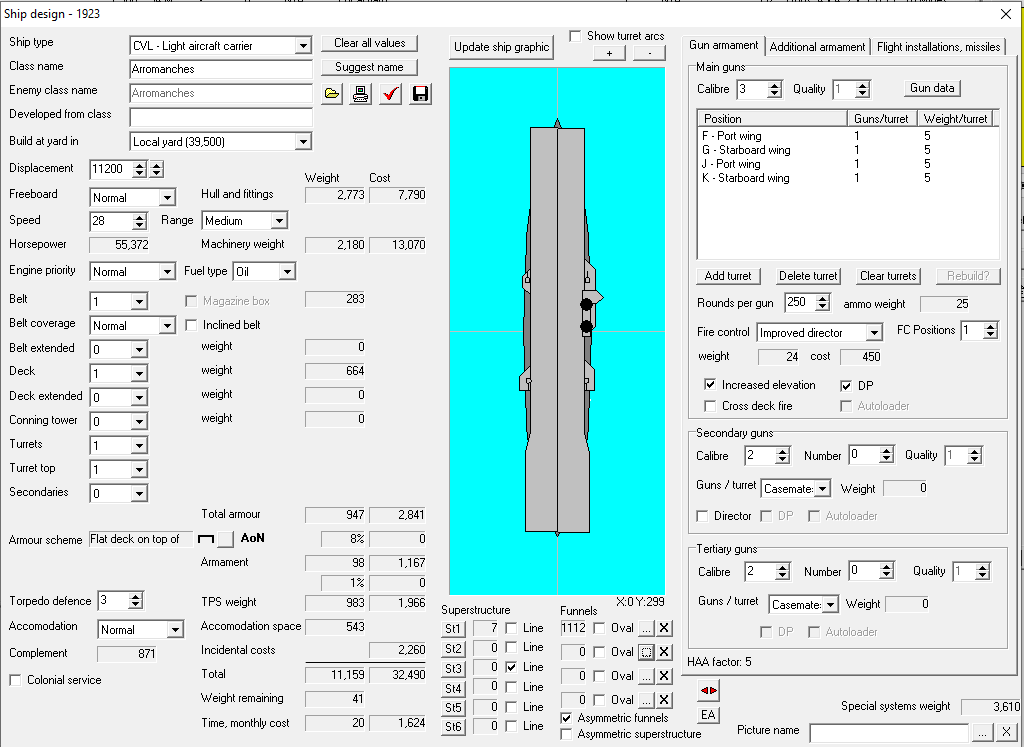 Commandant Teste's replacement in the build order will be a light aircraft carrier. Why that, instead of a seaplane carrier? Well, this carries 24 aircraft to Teste's ten, mainly. Split evenly between fighters and torpedo bombers, it'll be a better scout and be able to provide a CAP over the fleet.
No catapults, but it's just large enough so that we won't lose the ability to operate planes with heavy load from it. (That cutoff is, I believe, 10,000 tons.)
August 1923
On the plus side, at least for interesting gameplay notes, another naval treaty is signed, limiting us to 30,000 tons displacement and 15″ main guns for 8 years. On the minus side, it really tanks our budget.
For comparison, Ocean is a 30,800-ton ship with 14″ main guns.
November 1923
The new budget is a real kick in the teeth, doubled in intensity by our invention of quality-0 16″ guns so soon after the naval treaty. The building program will, alas, be somewhat reduced.
March 1924
Somewhat delayed by the treaty budget, the first Arromanches-class carrier hits the shipyards. In four months or so, we'll be in position to try an Ocean-class follow-on, budget-wise.
July 1924
Suffren, our next in the Ocean series of battleships, goes into the design studios. She's almost identical to the Ocean class, but drops a half-inch of belt armor and a few secondary guns in exchange for torpedo protection 3 and fitting in under the weight limit.
November 1924
Project 'annoy Austria-Hungary into a war they can't win' proceeds without a great deal of success.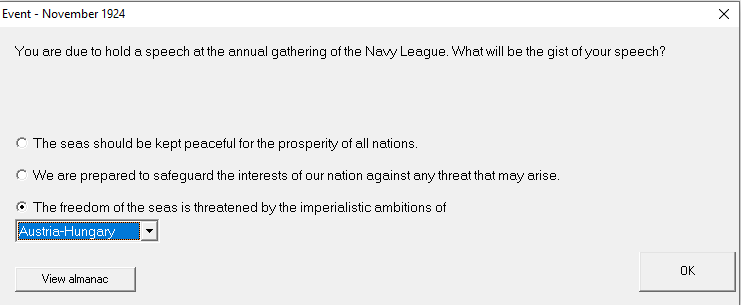 It does make us enough money to pay for Suffren and a destroyer, at least.
December 1924

Britain's working on an interesting cruiser. High speed, light armor, light weight.
January 1925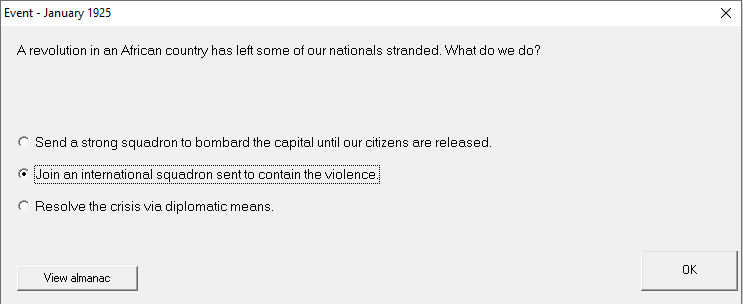 The middle way in an African crisis puts us in a good position financially. Rather than decide what to spend it on myself, since we're right at the end of an update, I'll put it to a vote. Read on.
Plans and Intentions
Tensions are low-ish across the board, with Austria-Hungary and Germany taking the lead at about halfway up the to-war meter.
Currently, we're running a surplus of 1,352 funds per month, with three ships under construction: a Glaive-class destroyer, our first Arromanches-class light aircraft carrier, and Suffren.
That surplus is enough to do one of three many things, in combination with what we have in the rainy-day fund:
Rebuild the Redoubtables, our 1913-era battleships, with modern fire control, anti-aircraft guns, and 25-knot speed, one at a time. That would give us a decent 24-knot battle line,
Build another two of the new Condillac overseas-service cruisers. That would save us a little bit on maintenance as we pull older ships out of service.
Build some destroyers. We have a good number already (third-most in the world, and many more than our standard competitors Germany, Italy, and Austria; we don't have many corvettes, though).
Potentially in concert with building destroyers or a Condillac, update the submarine fleet. We're quite a bit behind in submarine count.
Build another aircraft carrier.
Build a new fleet-service light cruiser, with a burly dual-purpose secondary armament for maximum future-proofing.
Improve our air bases on the Channel Coast to help in future wars with Germany.
Something I haven't thought of at all.
What should it be?