A very busy August and a moderately busy first half of September are now behind us, so. Let's see, where were we…
Ah, yes, it's August 1940, and we're crossing swords with the Austrians again. It sounds like the plan was, more or less, 'crush Austria', so that's what we'll do.
August 1940
Bit of a bummer to have one of our three carriers under repair, I have to say. Happily, she'll be back at the beginning of 1941, and shortly after, we'll have some fresher light cruisers too.
The first battle of this new update is a destroyer action in the Adriatic: nine French ships against a yet-unknown number of Austrians. We're very near our air support, but it's also twilight-soon-to-be-night, so we may not get the advantage of being within forty miles of around 120 friendly aircraft.
Just after night falls, we pick up some radar contacts 16,000 yards toward land. I guess we'll try some blind torpedo launching.
…
Several in-game hours of frenetic micromanagement later, it turns into one of the most lopsided French victories in history: in exchange for the loss of one destroyer, the unlucky recipient of a brace of Austrian torpedoes early in the battle, we sink thirteen Austrian ships.
Not all of it is do to with my adroit tactics. Part of it comes to shipbuilding. Our recent Espignole-class destroyers are superb ships, fast and heavily armed, and for once we outmatch the Austrian hardware.
September 1940
I decline two battles to start the month, but the third catches my eye: a cruiser action off Brest. I don't have any cruisers in the North Atlantic, but I do have the 27-knot battleship Rouen and an awful lot of aircraft. We'll see how it plays out.
It plays out by them saying 'no thanks', and we get another destroyer action in the Adriatic. This time, it's 11:00 a.m., so our tremendous quantities of air power should factor in.
Six French ships on seven Austrians, and we sank their modern destroyer fleet last time out. (They only have nine in service at present, so a big win here would basically eliminate the Austrian destroyer force.) Hopefully, this is a straightforward victory.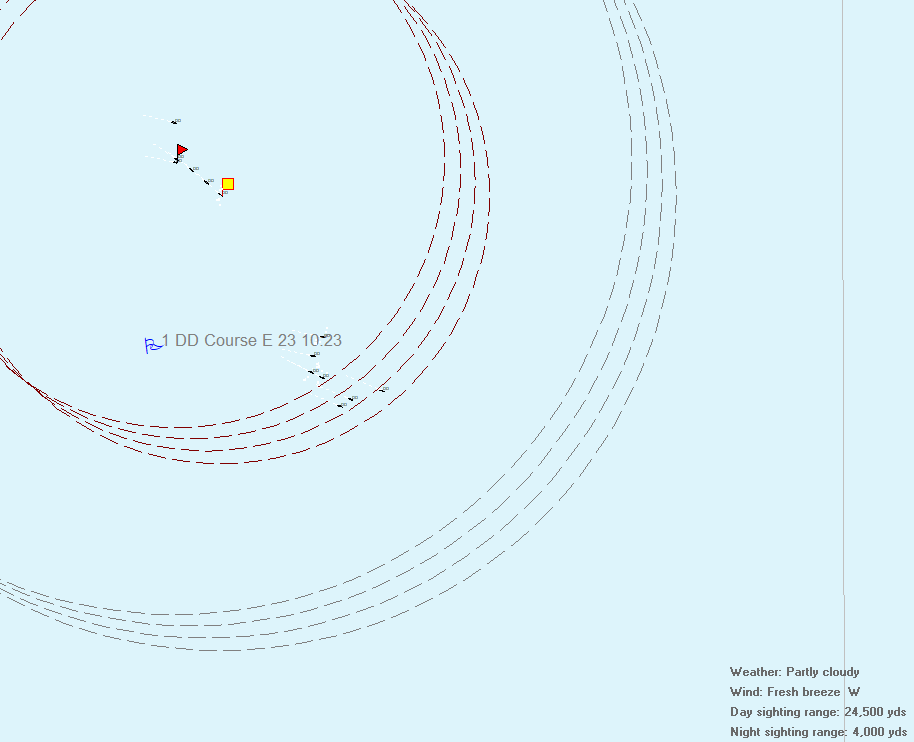 Since I don't want to get any more of my ships torpedoed, I'm playing this one a little more cautiously than has historically been my style, staying at near-maximum gun range.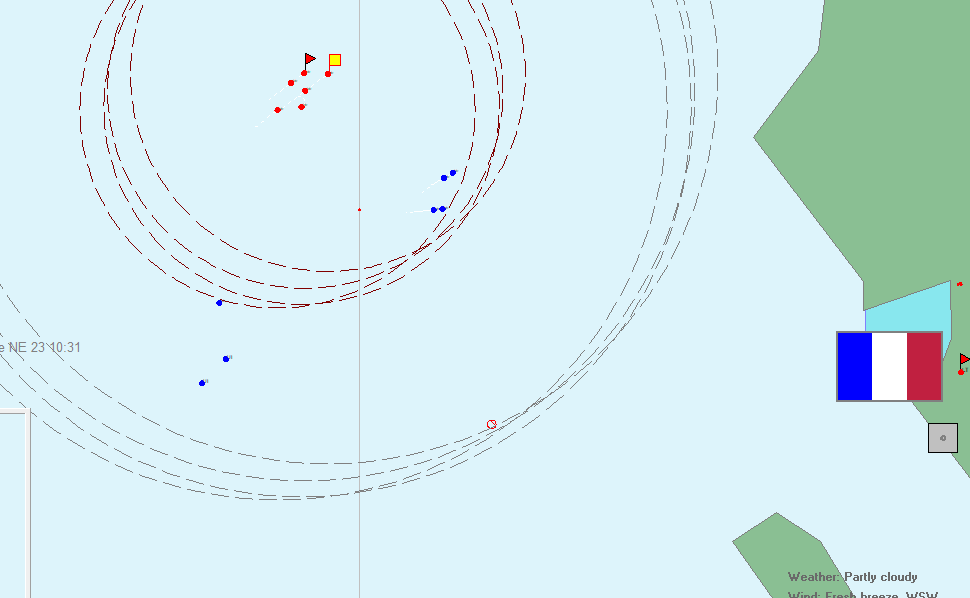 A long history of gunnery practice has made the French fleet a fearsome force in long-range gun duels, and by 12:51 p.m., the balance of hits is already substantially in our favor.
The afternoon sees some trading of blows by air strikes, though the French bombers come out looking better. It seems like a relatively dreary destroyer battle, wherein the vastly superior French ships sink a bunch of obsolete Austrian ones, when at 4:19 p.m., I see this report…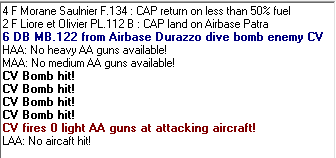 Surely there's not a carrier out to play in a destroyer action? Then again, it's awfully hard for even the greenest of land-based dive bomber pilots to mistake a destroyer for a carrier.
The next bombers in line ID it as a light cruiser, which means that whoever was in charge of the radio report from the first attack should probably be sacked.
A bit later in the afternoon, another few waves of aircraft find the target previously identified as a carrier and a light cruiser, and proceed to identify it as a battleship and a destroyer, which more or less runs the gamut of possibility.
In the end, it turns out to have been a destroyer.
October 1940
Maddeningly, the Austrians sue for peace before we've crushed them sufficiently to gain Morocco, either by treaty or by invasion. I guess we'll just have to cheese them off again and try to win more slowly next time.
The peace dividend is a little easier to deal with this time; I mothball a few battleships and most of our old destroyers, and we're sufficiently set so that the money will be there in a few months, as shipyard jobs finish.
Speaking of which, it's still four months until Bearn finishes her refit.
November 1940
Evidently, I had a medium bomber prototype request in progress. This time, I pick the shortest-range option, because it can carry an aerial torpedo 565 nautical miles. This is a massive force multiplier for our land-based air. No longer will they have to ineffectually attempt to hit moving ships from moving planes!
December 1940
A bit of saber-rattling toward Japan brings our budget back into the black, even though we're spending almost 13,000 funds per month on ship construction.
March 1941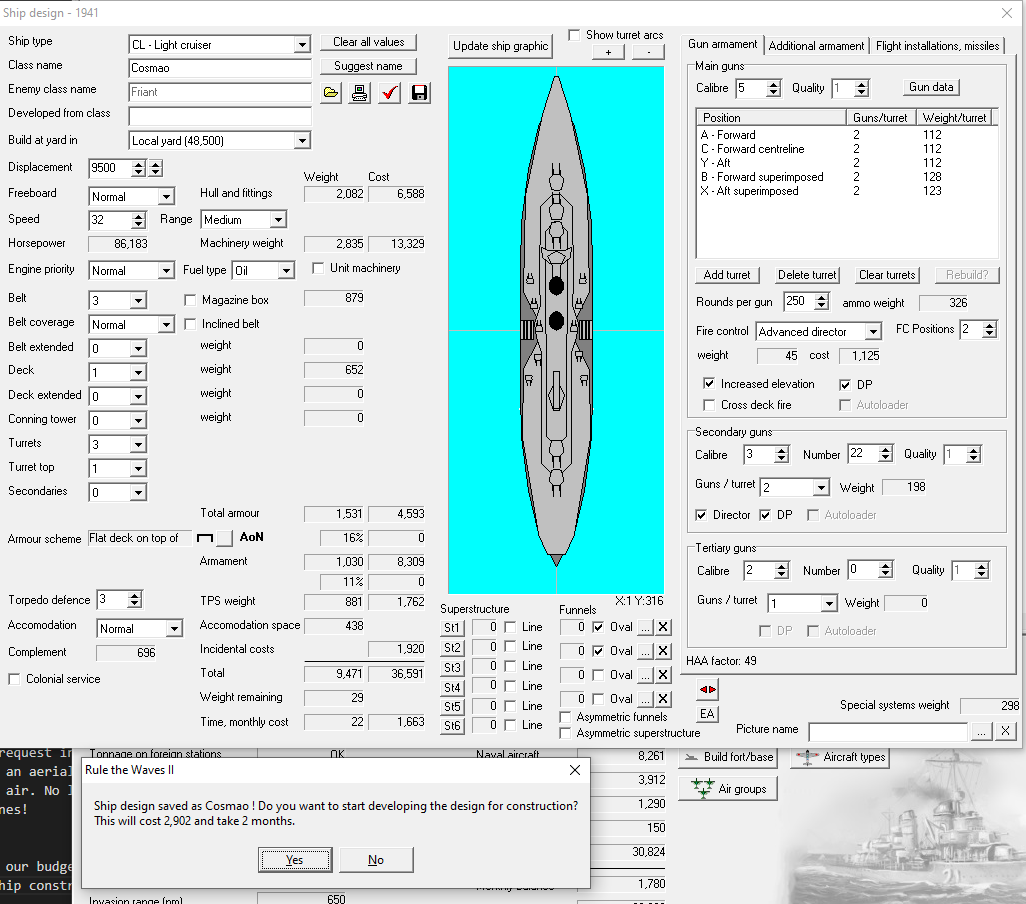 A new light cruiser design appears, similar to our existing Friants but with one fewer turret and a pair of floatplane scouts.
June 1941
A fascist coup takes place in Germany, and their flag changes once more to something a bit more historically familiar.
August 1941
Given that we lost a destroyer or two in the preceding war, I update the Espignole class into the Carqouis class, and plan to start one or two building in the next month. Once our cruiser Sfax finishes in two months, I'll start another light cruiser.
September 1941
New aircraft types enter operational service; most of our combat planes are of 1941 vintage. The only thing left to upgrade is the floatplane scout, so I do that.
November 1941
Eh, cancel the starting another light cruiser. Maintenance and new aircraft construction are eating into our funds a bit, so we only have a 933-funds surplus of the 1,663 it'll cost.
We're able to build 80-plane airbases now, so I start to expand some of our most strategic ones—in particular, those suited to strike at Austria-Hungary and Italy, the one at Brest, and those closest to Germany.
January 1942
It's a little confusing to be deep in the war years, and yet not have any wars on.
We do figure out the forward-firing ASW mortar, which is a delightfully useful tool. I prepare an upgrade of our escort-style Arc-class destroyer with one mounted.
February 1942
We have now developed airborne radar sets! I guess that'll make our future search planes even better? Or maybe just better at hunting submarines.
May 1942
I'm going to pause here, not because I'm out of stamina for the game, but because the carrier Egalité just entered service, and her final sibling Terreur will be arriving in a few months. That means we're going to have money hors du wazoo, which means interesting decisions.
Plans and Intentions
The first issue is one of strategy. It would be nice to snipe Morocco off of Austria-Hungary, but Austria keeps on wimping out of wars. Is there someone else we should go after? If so, who?
The next is one of shipbuilding. How do we stack up against the world?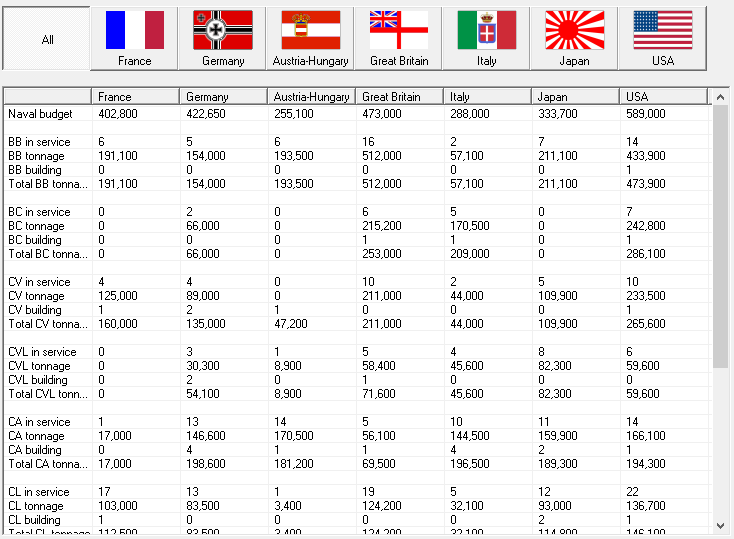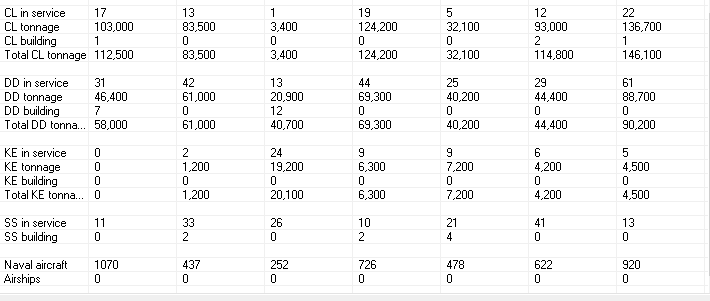 We're extremely light on dreadnoughts compared to the world leaders, and on par with to slightly light on them compared to other countries in the Mediterranean. We're middle of the pack on carriers, but our French Revolution-themed class, at 35,000 tons, are the largest carriers in service in the world, and carry 90 aircraft to the next best carrier's 60. (The Americans are catching up here.) We have one carrier under construction, due to be finished in six months.
As ever, we have almost no heavy cruisers. We do, on the other hand, have a ton of light cruisers, but only seven of them are on hand in Europe or the Mediterranean, with the rest scattered around the globe to fulfill our colonial service obligations. Only four of our European ships are truly modern. We have one light cruiser under construction, due to be finished in 10 months.
We're in decent shape on destroyers, especially compared to our fellow Mediterranean countries, although it should be noted that twelve of them, soon to be 15, are multi-purpose corvette-ish ships, and many of them are obsolescent. The other four destroyers we have under construction are modern, fleet service ships, of the kind that so adroitly slaughtered the Austrian destroyer force.
We're behind on submarines, but between our airbases and our carriers, we have the most naval aircraft in the world, a lead we'll only expand on as our airbases in strategic areas grow and our carrier force gets larger.
So, with those facts in mind, what do we build? We have a surplus of 3,410 funds right now (a pretty good carrier, a bad battleship, a cruiser and a half, two light cruisers, six to ten destroyers). In the next 11 months, we'll have an additional 8,000 or so funds to allocate. We could afford a battleship or two, but that era is more or less behind us. We could spend it on more carriers, a newer destroyer force, the start of a modern cruiser force… really, the world is our oyster.
What's it going to be?