Well, the votes are in (not that I pay especially close attention to the tallies): there is an overwhelming consensus toward a Germany-first strategy. It's not the strategy I would have chosen, necessarily, but I can see some of the advantages.
In particular, it might break the German blockade (we can only be blockaded in Northern Europe). Should it do so, we'll be giving up fewer victory points turn by turn. We're also stronger in the air in the Mediterranean relative to our foes than we are in Europe, so added hulls helps.
I start off with planning an invasion of Morocco, given that this is one of our war goals. And, with that, we're off to the races.
February 1937
The first battle of the greater war is a cruiser action off Madagascar. The Germans have airplanes in East Africa, but they lack the range to hit us here. The balance of forces is one German cruiser against a pair of French light cruisers, one of the Lavoisier class (1912) and one of the Condillac class (1922). Sfax, our older cruiser, has a broadside of 6″ guns and a speed of 27 knots. Descartes has a 28-knot speed and a broadside of 4″ guns. I'm taking this one to the battle map, because Germany has a bunch of older heavy cruisers that we might be able to sink by way of lucky torpedoes.
The wind is a strong gale, and heavy seas limit our ships to 16 knots. This is not ideal if we happen upon the Germans, but the poor visibility means if we do, we'll be in torpedo range almost immediately.
The weather does not improve. Rain and spray off the top of whitecaps reduce sighting ranges to, at times, less than 1000 yards.
At 5:50 p.m., approaching with the dusk behind her, a German cruiser sails in from the east. She's a 1928 Vineta class, and probably worth running from—her armament is a bit too modern for our old cruisers to take for very long. Six 11″ guns, 12 6″ guns, and 6 4″ guns will hurt us in a hurry.
Sfax takes a hit to the engine room which slows her to 11 knots, but by then, the German cruiser's turned south to avoid torpedoes, and the French ships have turned north to run into Diego Suarez.
It's too late, though—the two 11″ shells which hit Sfax suffice to send the old girl to the bottom. Ships bearing the Lavoisier name account for an awful lot of the losses suffered by the French fleet.
After the battle, I am alerted by dialog box that invasion of Morocco will be impossible as long as we're under blockade, so I guess Germany First is the right plan after all. In further news, our newest battleship Magenta strikes a mine in the Channel, and will be in the dockyards for six months. Poor timing.
The Americans, however, are coming through in a big way—they now have four dreadnoughts, three fleet carriers, and three light carriers in Europe alongside the French fleet.
March 1937
In 'battles I might have been better off declining', two French light cruisers and a flotilla of modern destroyers encounter a squadron of new German cruisers.
The German cruiser forces do appear to be superior to our own. An attack by the destroyers gives the light cruisers enough sea room to run away, at least as a start, at the cost of only one of their number.
While the retreat is in progress, I check the air range rings. A little more readable here in the north, they tell me that French medium bombers from Dunkerque can reach the North Sea as far as the border betwen England and Scotland. Germany's planes have much shorter range—they can't even reach us as we sail down the middle of the Dogger Bank.
After the battle, the new torpedo bomber prototypes hit my desk for evaluation. The Loire 126 looks like the winner—its range with a torpedo is a full 100 nautical miles greater than our previous bomber, and it can haul a 500lb bomb 454 miles.
April 1937
This month's battle: a convoy defense in the outer Bay of Biscay, within range of medium bomber strikes. The French force centers on Nancy, one of our old Rouen-class battlecruisers rebuilt as a battleship. Her 27-knot speed makes her a valuable asset for this kind of work.
Also present is Forbin, one of our newer light cruisers, which proceeds to launch a scout floatplane.
Some time after launch, Forbin's scout reports a relatively heavy force: two battlecruisers, two light cruisers, and nine destroyers. We're at par on destroyers, but behind on dreadnoughts and light cruisers, so I play this one a little more coy, hanging back near the convoy for now.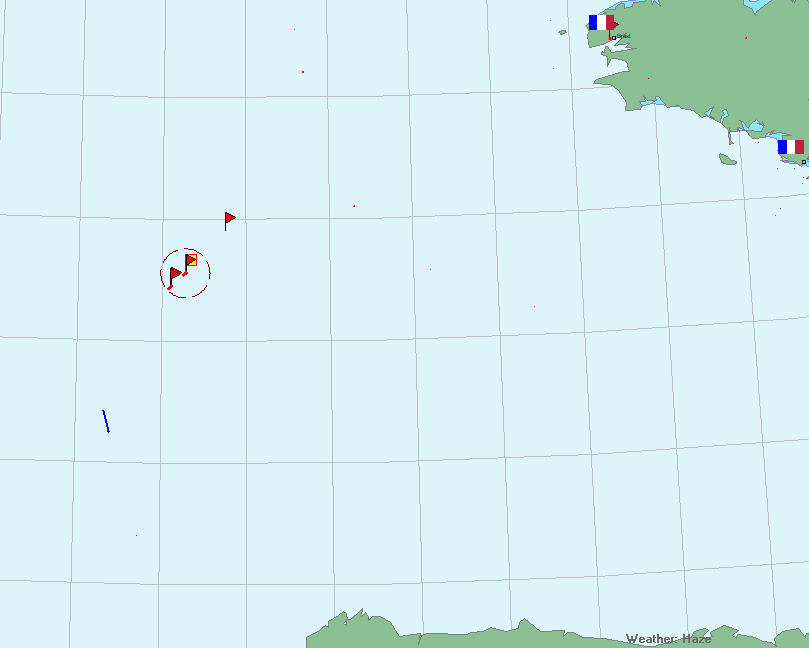 The enemy ships are heading northwest.
Shortly thereafter, it becomes clear that the report of Forbin's scout was a little misleading. Enemy aircraft pass overhead, and Forbin spots an enemy ship thirteen miles to port.
It's a light cruiser, scouting us out. Forbin opens fire with her six forward 6″ guns, and this might be a big enough battle to get into timestamps, so…
12:16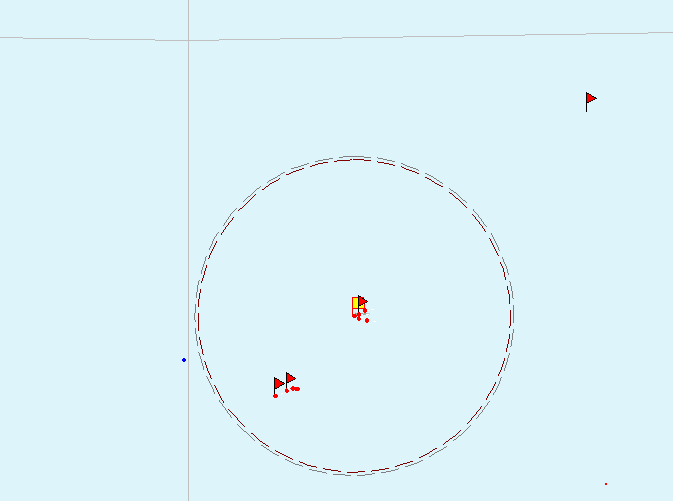 The red dot in the bottom right of the screen is not Forbin's scout, but a medium bomber flying recon out of Brest. Maybe we'll get some land-based support.
12:27
Forbin, getting a bit closer, realizes that her target is not a light cruiser but a destroyer.
12:37
Forbin finds the range, hitting the German destroyer twice in the last three minutes.
12:56
Still running south, the destroyer's taken enough damage now to slow it down.
13:06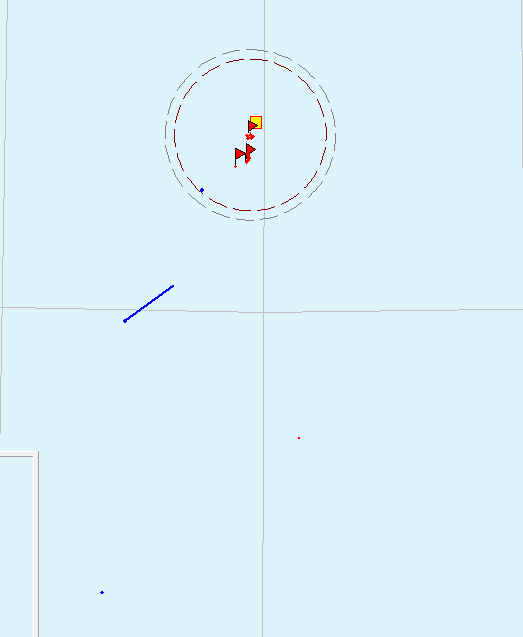 15 miles southwest of the action, a scout from Brest reports two light cruisers heading our way. That's a good ways north of our previous spotting report from Forbin's floatplane.
13:12
Six minutes later, Forbin spots another ship bearing north. The unidentified ship hits from around Forbin's maximum range, suggesting that it's a light cruiser.
13:18
Six minutes after that, eight floatplanes approach Nancy, coming from the west. They look to be approaching for an attack.
13:23
No bombs hit, and AA machine guns on the battleship and her escorting destroyers wing one of the scouts.
13:26
Forbin reports large ships to the southwest, so we make an about-face until we can identify them. If they're some of Germany's ancient battlecruisers, we might make a fight of it. Otherwise, we'll retire to the convoy.
13:32
An enterprising destroyer captain closes a bit with the enemy light cruiser, marking it as a Medusa-class, very slightly outclassed by our Forbin.
14:00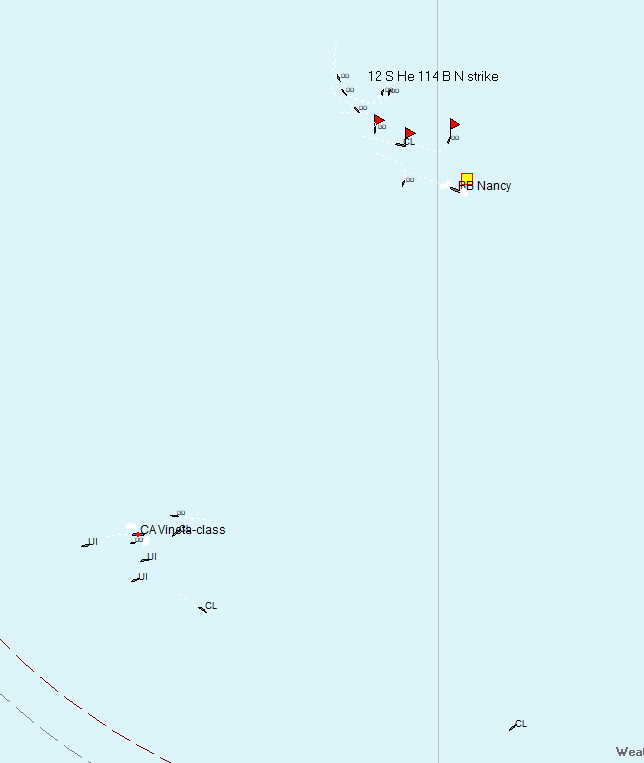 The enemy force is built around what we've identified as a Vineta-class cruiser. I do not fully buy that—the Vineta-class is an old-time armored cruiser design with six guns in two triple turrets, one fore, one aft. The target looks like an early battlecruiser, with guns in non-superfiring double turrets, one amidships. Compare and contrast: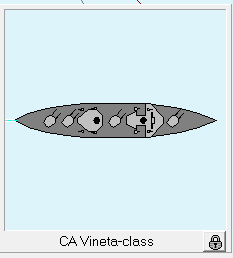 And flipping through the almanac, I find that it looks like a 1915-era Goeben-class.

I only turned on the zoomed-in inset view at the start of this playthrough because I'd committed to drawing prettier ships for the purposes of the Let's Play and wanted to see them, but wouldn't you know it, it's provided some valuable tactical information.
14:13
Two new unknown ships appear just southwest of the old battlecruiser. They've not been identified yet.
Some German level bombers had a go at me just now. I'm not sure if that's misidentification or what—it's an awfully long way from the German coast. Maybe there's a seaplane carrier around.
14:24
The two German ships appear to be more modern battlecruisers, which means it's time to beat a retreat. Given the rough weather, Nancy is nearly as fast as they are, and French gunnery is once again proving to be better than German.
14:33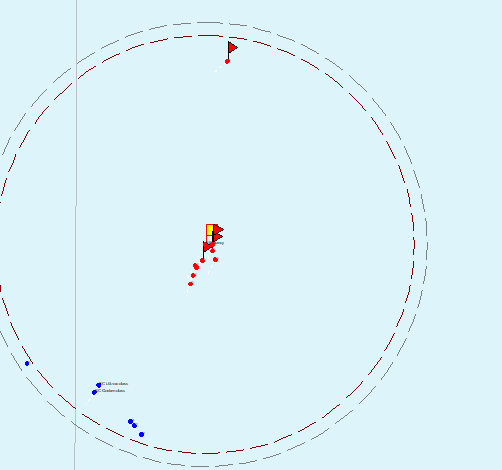 Only one of the two pursuing battlecruisers is modern—Lützow, a rough contemporary of Nancy, and roughly her equal. The other one is the second of the two Goebens Germany built way back when.
15:32
It's a tense situation. The Germans aren't closing the range, because the lightly-damaged Nancy is still as fast as the enemy Goebens—if the Germans wanted to get closer, they'd have to send Lützow by her lonesome, and that's too fair a fight. If Nancy gets slowed down by damage very much more, it could be a very sticky situation, with dusk still two hours away.
16:27
Nancy runs out of ammunition for her aft turret slightly before a shell from Lützow penetrates its roof. One hour to dusk. I send the destroyer flotillas on a quick attack. If the Germans turn away even for a few minutes, we get away easily.
16:34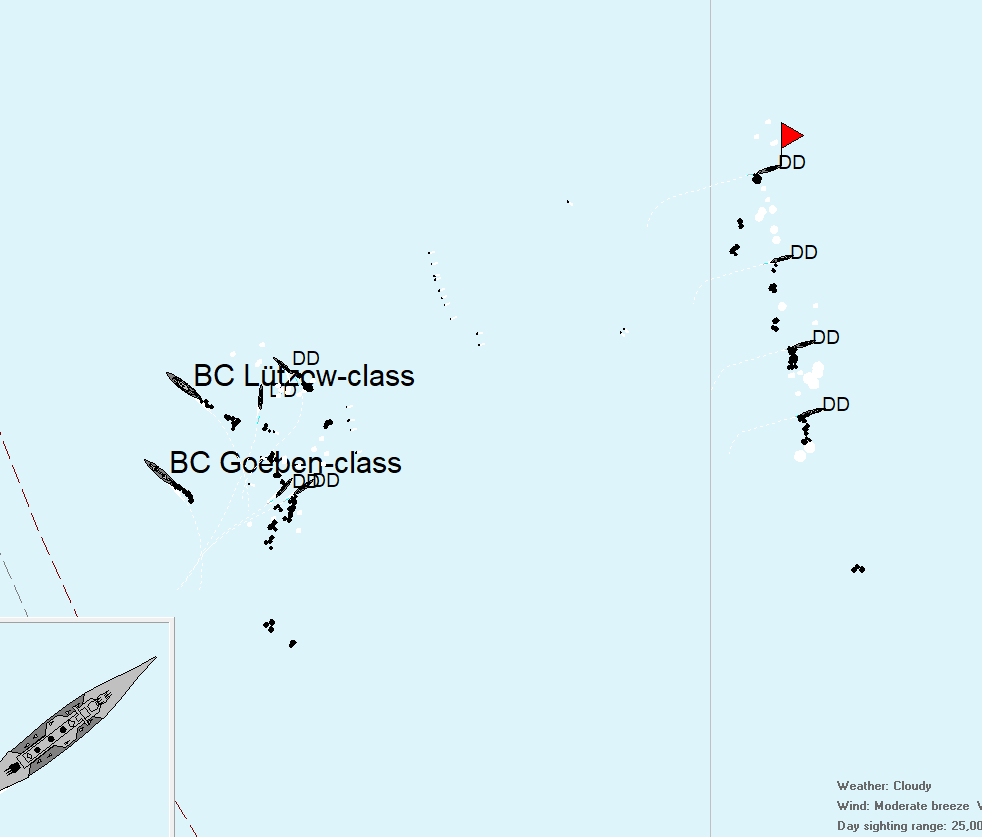 Well done, boys! Might even hit something with a spread like that. (Update: they do not.)
Around this time, dive bombers approach our ships, which makes me wonder if the Germans have a carrier out here somewhere. If so, unfair. Where's my carrier? With one of those, I bet I could have done some proper damage.
17:27
Dusk approaches, but our convoy is in sight ahead, and the Germans are still prowling. We'll loom near the convoy and, perhaps, torpedo some unwary Germans.
Aftermath
It does not come to pass, but the convoy escapes unscathed into the night, for the first French victory of the war.
The rest of the month is quiet. I grant the Army some of our budget in an effort to gain some victory points on the ground. The war at sea has been tough so far.
May 1937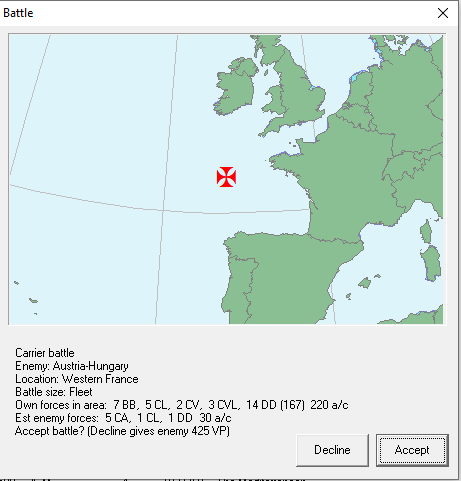 This, now. This plays into our strengths. The Austrians, realizing this, decline battle.
The other option is a cruiser battle against Germany in the western Mediterranean, in the center of a bunch of our major air bases. I can live with that, too.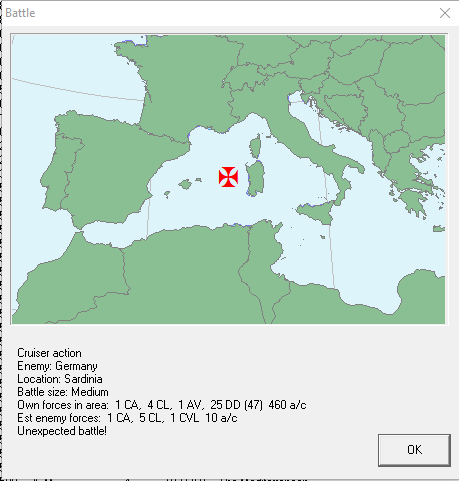 Latouche-Treville, our cruiser, is a solid ship—fast and reasonably armored, she also carries a pair of scout planes.
The battle turns out not to include our heavy cruiser, unfortunately, but with a little luck, maybe we'll still bag something with air support.
Quite unfairly, it looks like the Germans get an armored cruiser while we don't. (I guess Latouche-Treville is technically on raider duty.) Still, we have planes in the air, which will hopefully score some good hits for us.
Thanks to the comical ineptitude of our land-based air support, who utterly fail to attack an enemy formation despite passing within five miles of it (granted, it's cloudy today, so air spotting is iffy), we lose Amiral Cecile and Durandal, a light cruiser and destroyer, and hand Germany another win.
Notably, despite our intelligence saying Germany had one cruiser and four light cruisers, we found ourselves facing off against four cruisers and one light cruiser. Good old naval intelligence.
I think I'm going to stick it out against Germany for one more month, in the hopes of getting a carrier battle, and if not, I'm going to retire to the Mediterranean, where we can beat up on the Austro-Hungarians a bit. (I expect the German fleet is largely short-ranged, which means it can't move between map zones at war.)
June 1937
Instead of winning a carrier battle, we lose a light cruiser battle—our Lalande, intercepted while attempting to break the blockade and go on a raiding cruise, loses to a German Gazelle class. Time to move the fleet to the Mediterranean.
July 1937
Just before our ships leave, a patrol in the North Sea intercepts wireless signals suggesting the German fleet is sortieing. The forecast for the day is clear weather, light wind, and good visibility. The French carrier force is itching to get stuck in. This is their chance.
The Battle of Texel
It starts at 3:10 a.m. on June 29th, twenty minutes to sunrise. The French fleet is arrayed battleships forward, steaming northeast. The wind is out of the northeast, which might make for some tricky carrier maneuvering—the carriers will have to steam toward Norway to launch and recover planes, which means they'll have to really sprint in between strikes and recoveries to make progress south or west.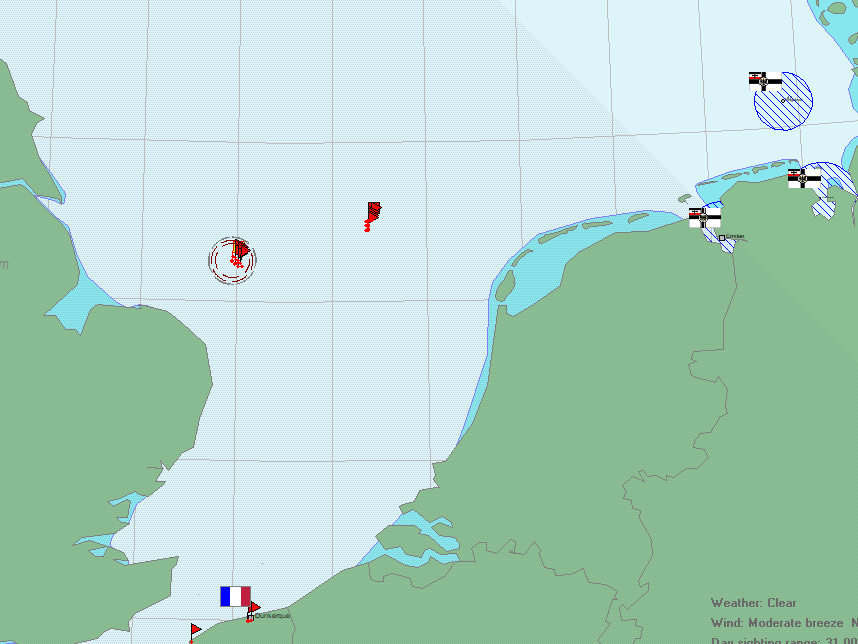 The main body of the German fleet is significantly slower than the French fleet. Only the newest German battleships, at 26 knots, can keep up with the French line, which is limited to 25 knots by the rebuilt Requin. (If it comes to that, we'll leave her behind.) If we engage with guns at all, we'll be facing off primarily against the German battlecruisers. My plan, however, is to dive due south through the Channel and past Dunkerque. By doing so, we'll get further from German land-based air and nearer our own, and depend on the striking power of 196 carrier aircraft.
If the positioning of the enemy fleet makes that maneuver implausible, we'll instead head northwest along the English coast—a sight to behold, no doubt, for residents of Britain's coasts.
Recon is set up, the carriers are readying strike planes, and the battleships are cleared for action. Time for the big one.
3:25 a.m.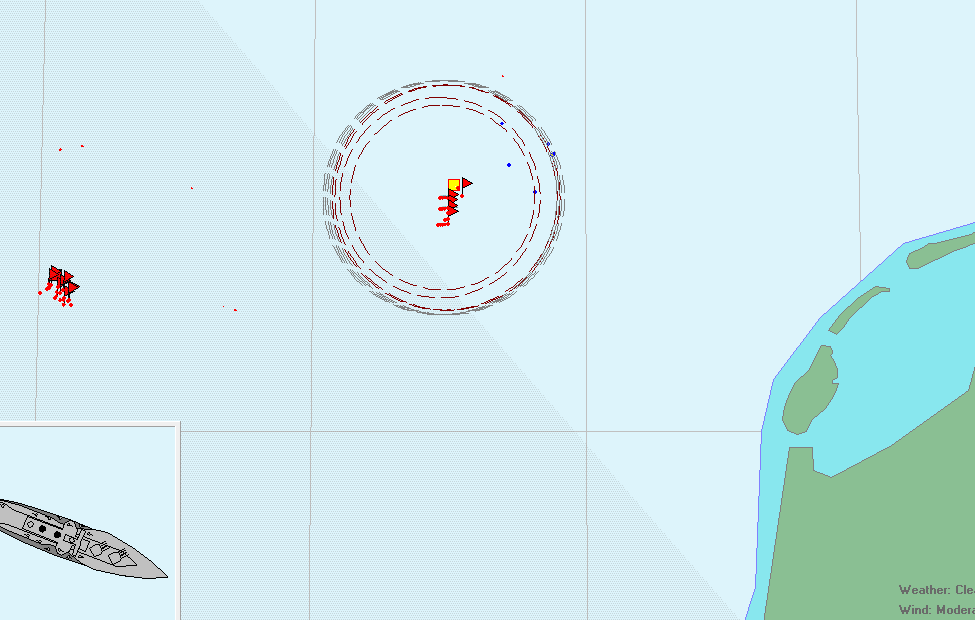 Twilight reveals the German fleet steaming in columns, much as is our own, its leading elements within gun range of the heaviest French ships. I order the turn south, and the fleet goes to maximum speed.
3:30 a.m.
Arromanches and Dixmude, our two purpose-built light carriers, are the first to get aircraft spotted for launch, at 3:28 a.m. Two minutes later, a much heftier strike from the full-size carriers Bearn and Joffre is ready for launch.
An interesting difference between carrier warfare in the North Atlantic and carrier warfare in the Pacific is time. In the summer, we have a tremendous amount of daylight to work with, enough for three or four waves of strikes. In the winter, we have barely enough time for scouting and perhaps a strike or two, to say nothing of the poor odds on good carrier weather. In the Pacific, the fighting was largely in the tropics, where the day length isn't nearly so variable, and the weather is more uniform through the year to boot.
In the meantime, a German battlecruiser tags our battleship Marengo with a heavy gun. Happily, our predilection for heavy armor means the shell fails to penetrate.
3:48 a.m.
The German battlecruisers, despite their superior gunnery, seem not to be in the mood for a running gun battle with the full French battle line. They turn away to the east, and the battleships lose sight of them.
Back at the carriers, Arromanches and Dixmude launch their strike, a total of fourteen torpedo bombers between the two of them.
3:49 a.m.
German scouts spot the carrier force. Happily, I set CAP to 'heavy' with just that eventuality in mind.
3:51 a.m.
Bearn's strikers begin to take off.
A minute later, scouting reports confirm what we already knew about the German ships' course and location.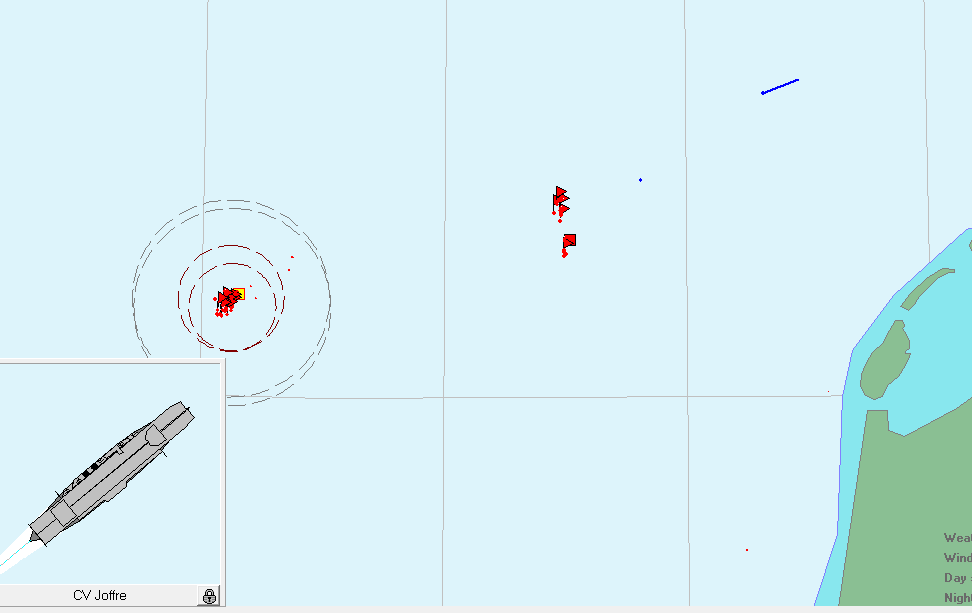 4:09 a.m.
Bruix, our ex-heavy-cruiser light carrier, launched her 14-plane strike. Joffre, our largest and most capable carrier, slings 39 planes toward the Germans.
4:41 a.m.
The situation is developing. The Germans still appear to be heading northeast, away from our ships. Some of our heavier strikes might miss short, unless the pilots continue out along the heading they're flying now..
Pilots from Dixmude and Arromanches seem to have taken the latter course, as seven torpedo bombers approach an enemy ship.
4:45 a.m.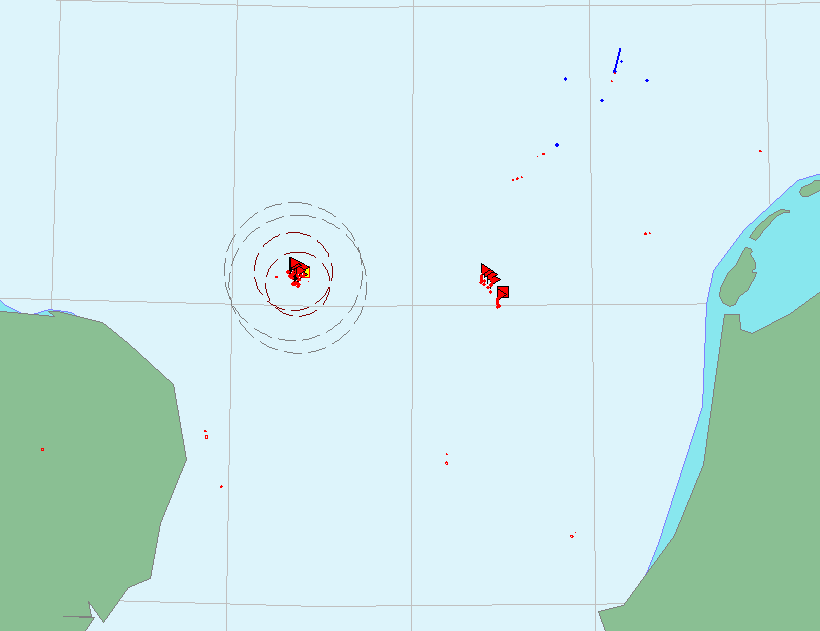 Those pilots do themselves proud, radioing the current location of a German battlecruiser squadron as they begin their attack runs.
4:46 a.m.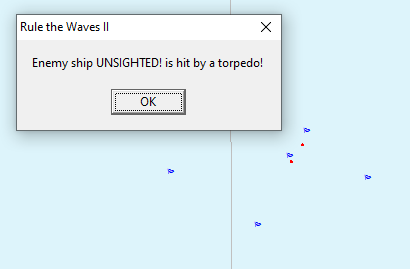 They do themselves even more proud, hitting two ships with torpedoes, and strikes from Joffre and Bruix are coming up right behind them.
5:05 a.m.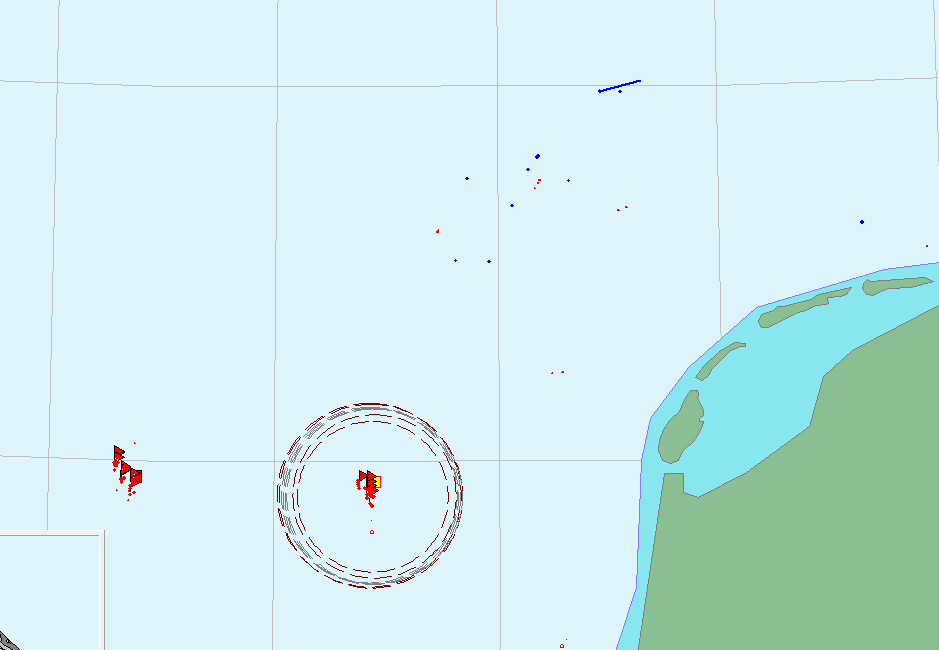 While the battle line doubles back toward the carriers to provide close-in support and share CAP, a scouting report comes in for 10 battleships, 4 battlecruisers, and 8 cruisers—the main body of the German fleet. We may be able to launch a follow-up strike at it later.
5:10 a.m.
Joffre's strike closes in on the enemy. At the same time, enemy aircraft approach our battle divisions, eight dive bombers out of the east-southeast. Perhaps land-based planes?
5:13 a.m.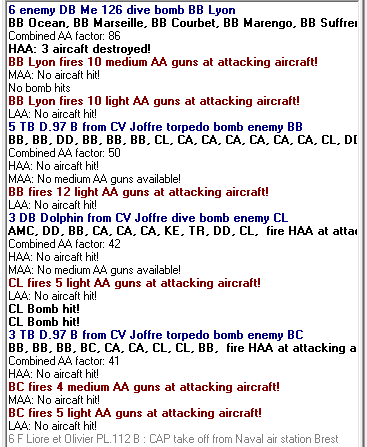 The combat log is pretty busy this time around. Of particular note is the effectiveness of the extremely heavy AA fit on our new battleships—each of them carries 20 4″ dual-purpose guns with directors, except for Suffren, built 1927, which only carries 18, because of the naval treaty in effect at the time.
5:14 a.m.
The good news continues to roll in. Our machines score another two torpedo hits, then two bomb hits on a heavy cruiser.
5:17 a.m.
We score three more torpedo hits. At least some of these are probably on battleships and battlecruisers.
5:30 a.m.
A few torpedo bombers approach the French battle line, but heavy AA fire prevents them from launching accurately. Marseilles has to put her rudder hard over, but manages to dodge, which is good. She predates torpedo protection.
The enemy fleet appears to be in more or less the same places, according to scouting reports.
6:21 a.m.
Recovery of the morning strike is delayed somewhat by an air attack on our carriers. Bruix, a ship without an armored flight deck, takes the brunt of it, losing a bit of speed and catching fire.
6:27 a.m.
Bruix's damage control parties very quickly put the fire out. Her planes prepare to land and patch the deck sufficiently for her to continue air operations.
Back out toward the German fleet, a bomber launch from an hour or so ago (Joffre had a few more planes left, so I decided to send them out), finds targets.
6:47 a.m.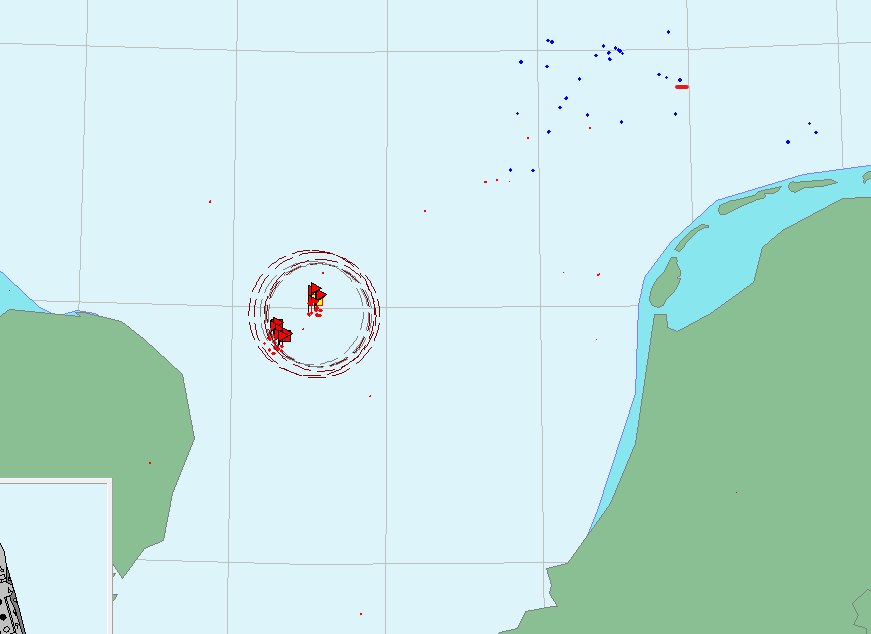 With the Germans evidently on the run, and German aircraft perhaps in the air headed for our fleet, I decide now is a good time to double back to the northwest. It'll confuse their targeting, and make for a shorter trip for our second-wave strike.
Which is still going to be pretty substantial—Joffre and Bearn can scrape together 35 planes.
Were I the German admiral, knowing I have a vastly superior battleship force, I might have tried my luck at pushing hard toward the French fleet, powering past the battleships, and seeing if I could reach the carriers.
6:58 a.m.
Bruix gets into the action too.
Dixmude and Arromanches ship some of our new Bloch MB.122 dive bombers, with their long range and heavy striking power. Those planes, owing to their high speed and long range, played scout earlier in the battle, and some of them are landing now. The two sibling light carriers will hold off on a second strike until they can include some 1000lb bombs from above.
7:05 a.m.
It looks like they've all landed, so time to get them back in the air.
7:15 a.m.
Some dive bombers off of Dixmude which I'd forgotten about locate an enemy battleship and plant a 1000lb bomb on it. Thus ends our first wave of strikes.
7:31 a.m.
The second wave is getting in the air, due to arrive on target in the next hour to hour and a half.
7:51 a.m.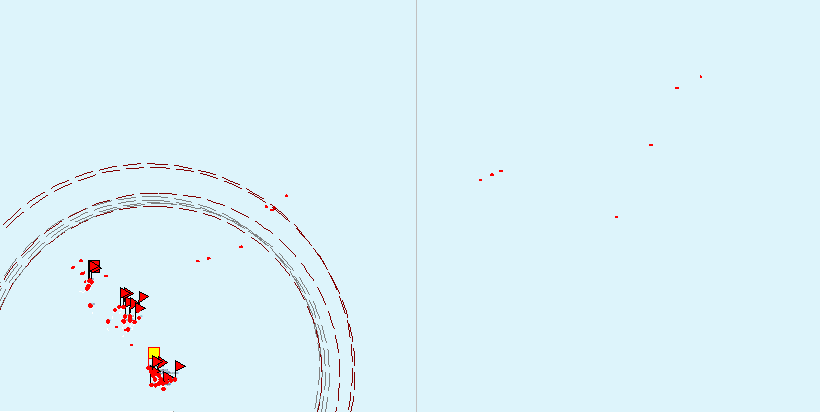 Strikes are on the way.
8:25 a.m.
The first of the second wave of strikes has spotted enemy ships. Unfortunately, we're at the very edge of our old-time dive bombers' range—the North American Dolphin can only carry a 300lb bomb 120 miles, so they won't be doing much damage. Hopefully the torpedo bombers can repeat their superb performance from earlier in the day.
8:38 a.m.
It looks like Joffre's strike is going to take a crack at things next.
8:51 a.m.
As the smoke clears, Joffre's tally is three bomb hits and two torpedoes, all on dreadnought-type ships.
9:01 a.m.
Bruix joins the fun with three bomb hits on a light cruiser and one on a destroyer.
9:05 a.m.
Adding to her renown, a torpedo bomber from Bruix hits a battleship. Between the effectiveness of this last strike and her adroit damage control earlier in the day, Bruix might be second MVP beyond Joffre.
9:07 a.m.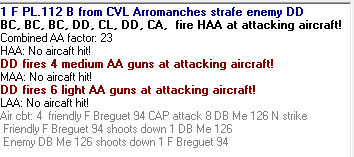 What an enterprising pilot! Give him a medal of some kind. I don't know my French medals well enough to say what's appropriate. Pour some kind of le mérite. Wait, that's a German one. L'Ordre du mérite français, pas du mérite allemand?
9:27 a.m.
That fighter pilot who decided to take a little strafing run appears to be the last action of the second wave.
It may be worth launching a third wave, even. The enemy may be heading for port, but the last few spotting reports have them heading southwest instead of southeast, and the worst that can happen is that there's nothing to be found and the strikes just come home.
10:52 a.m.
Big time jump! Nothing happened, except planes landed. Four of our five carriers prepare a third and final wave. We're right on the edge of our effective range, about 150 nautical miles from the last sighting of the German fleet. In particular, that means the Dolphin dive bombers are of no use, so this will be a torpedoes-only strike.
11:29 a.m.
Dixmude and Arromanches get their planes aloft first. Others follow shortly thereafter.
1:12 p.m.
After a quiet flight out skirting the Dutch coast, the first strike planes spot enemy ships.
1:16 p.m.
Bearn's planes torpedo a battleship three times. Shortly after, while the German AA gunners attempt to crank their turrets skyward, two 1000lb bombs hit home, and a third finds a heavy cruiser's deck.
1:26 p.m.
Joffre joins in the fun. Her torpedo bombers nail a battlecruiser twice.
1:29 p.m.
German medium bombers tangle with the French task force's CAP, much to their own detriment.

The decision to go with a heavier CAP seems to be paying dividends—German air attacks have been largely ineffective today.
1:33 p.m.
Joffre's bombers score six hits, a brilliant display of piloting prowess.
1:47 p.m.
Arromanches' dive bombers, the modern Bloch type, round out the day with three hits to a battlecruiser.
Spotting reports suggest the enemy is now entering the Ems delta, on the way to the port of Emden. There will be no fourth wave.
Aftermath
It is a glorious day for France, mes amis.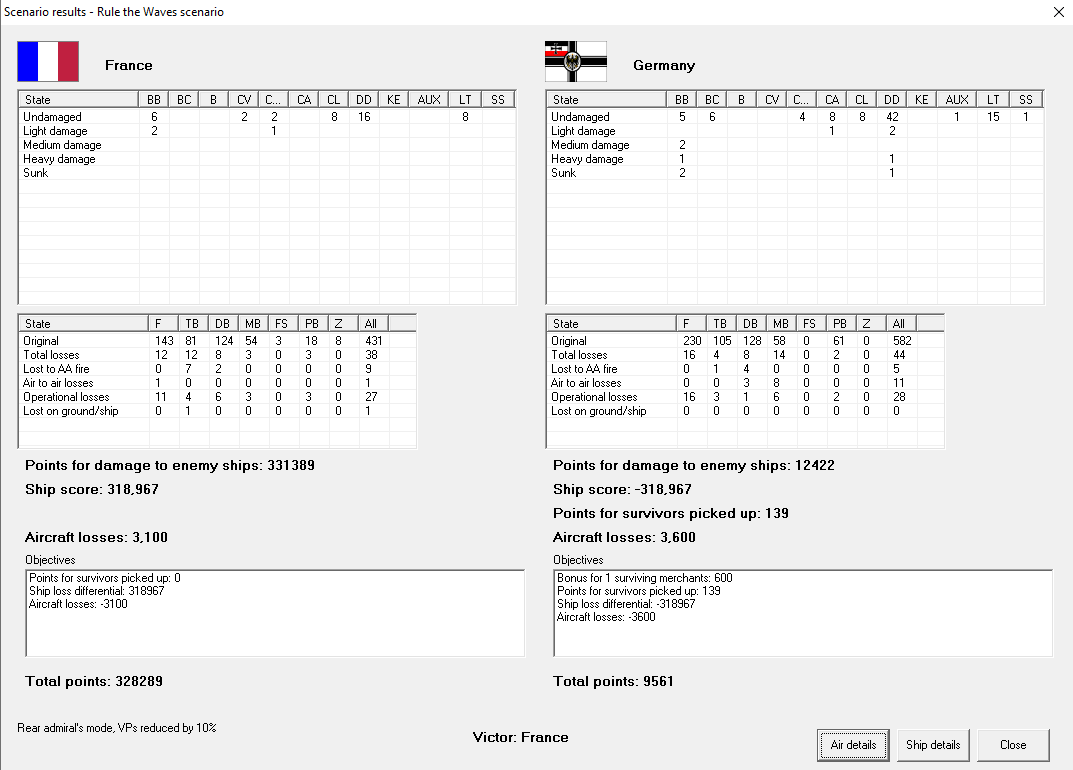 We sink Hessen and Schwaben, two modern German battleships of 35,000 and 38,000 tons, against a mere handful of aircraft losses. (The Germans lost more!)
Aircraft losses tell an interesting story. The Germans did better on AA than we did, but that seems to be because French naval aviation leans much more heavily on torpedo bombers than do their German counterparts. Not only are torpedo bombers inherently more vulnerable than dive bombers to AA, because they have to fly low and slow to deploy their weapons, our torpedo bombers were engaged three separate times with the larger part of the German battle line.
I suspect that the lone aircraft lost aboard a ship was one of Bruix's bombers, destroyed when she took the bomb hit early in the day.
Prior to this battle, we trailed in victory points 6,800 to 2,200. Now, we lead by…
21,080 to 8,071. What a turnaround! A big win like that gives us a lot more leeway to continue the war; losing little dink-and-dunk battles pales in comparison to the importance of sinking capital ships.
That said, we didn't actually sink that many German ships. The fleet power comparison in Northern Europe is a bit less tilted in the Germans' favor. We sank two battleships and put three more into the yards for repairs, and they're down a battlecruiser, too. Their battleship, battlecruiser, and cruiser force still dramatically outnumbers our own.
Plans and Intentions
I didn't make it that far into the two-year standard update this week, what with the war on, but this seems like a good place to stop for the moment, with a victory behind us.
The Battle of Texel proves that we can deal serious damage to the German fleet, provided conditions are right: fleet battles in good carrier weather. On the other hand, the Germans have been beating us across the board in smaller actions, and if the battle fleets come into direct contact, I would expect it to go badly for us.
I still think I plan to move the fleet to the Mediterranean. As I mentioned above, the German fleet is probably mostly short-ranged, which means that it punches above its weight for a given tonnage, but can't move from its current deployment zone. The Austrian fleet is probably also short-ranged, come to think of it, but France has outclassed Austria on budget grounds for long enough that I think we can still take them in a much wider spectrum of battles than 'pound them from 150 miles with carrier planes'.
I will, of course, listen to dissenting opinions, but that's how I lean now. Because of the German blockade in Northern Europe, it doesn't look like we'll be able to take Morocco by invasion without winning at least a few more major battles.