February 1935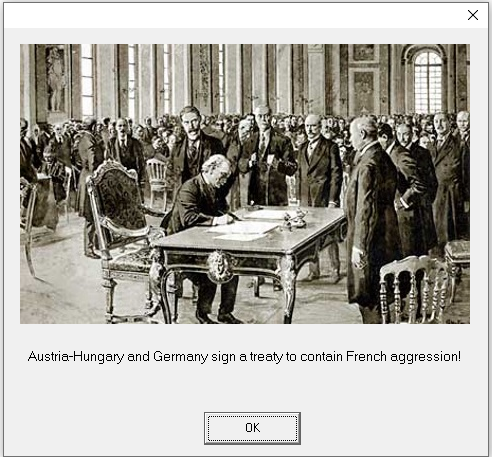 Well, so much for that plan about attacking Austria, unless maybe we can rope Britain in on our side.
March 1935
Solferino, the next in the Magenta line of 30-knot battleships, goes to the yards. She's a slightly-modified version of Magenta, with a bit more armor and a bit more main gun ammunition.
May 1935
With the big destroyer order finished, I retired some of the increasingly-elderly Harpons and put the money toward a few foreign-service light cruisers. We still have three extremely-elderly Chateaurenaults (built 1903-1905) overseas, so I figure a few newer ships are probably in order.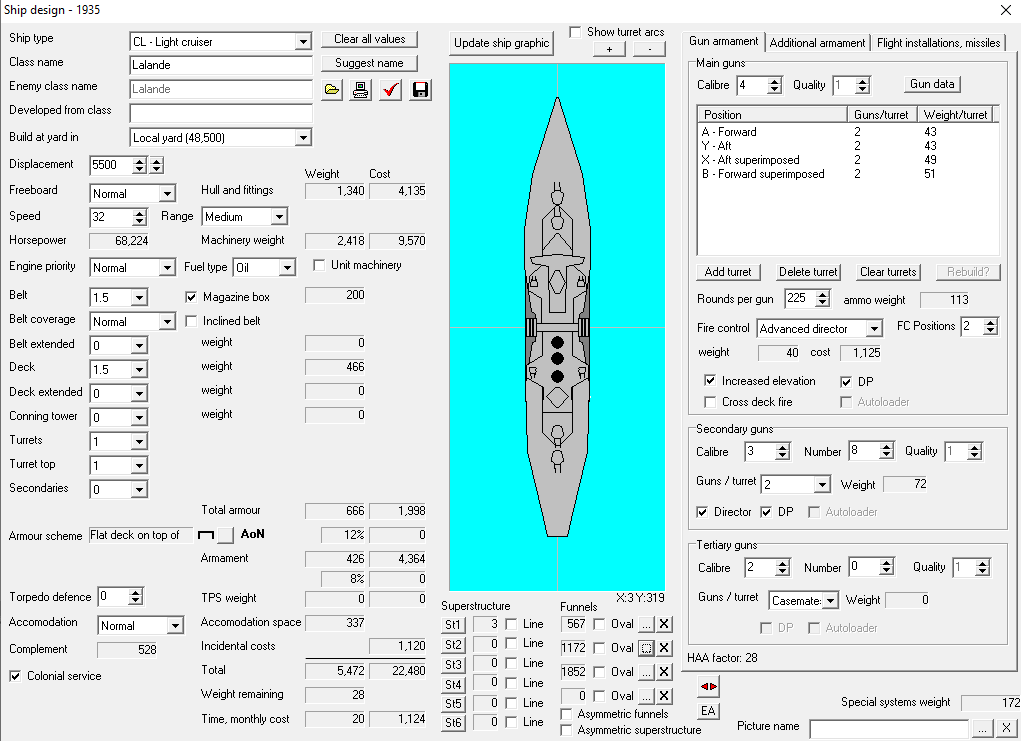 Even if we don't actually care about much beyond the Mediterranean, it's nice to have cruisers that we can bring home to some actual effect. Too, these cruisers have about twice the tonnage for the same maintenance, so we'll need fewer ships overseas and can therefore retire some of the older ones. As has been traditional with overseas cruisers, she has light guns. This one's a bit faster than preceding iterations, however, and carries a seaplane so she's not entirely useless in fleet combat.
July 1935
Tensions with Germany are decreasing, which is good. I'm not quite sure how the alliance mechanic works between the AI countries, or whether we can knock Germany out of its alliance with Austria by diplomatic means (by which I mean the game's random event system).
October 1935
The British finally crush an ongoing rebellion in Zanzibar. Tensions with Austria are decreasing slightly, which is not, as I see it, necessarily a bad thing.
I take the opportunity to expand our airbases in the neighborhood of our potential foes—Germany, Italy, and Austria-Hungary.
November 1935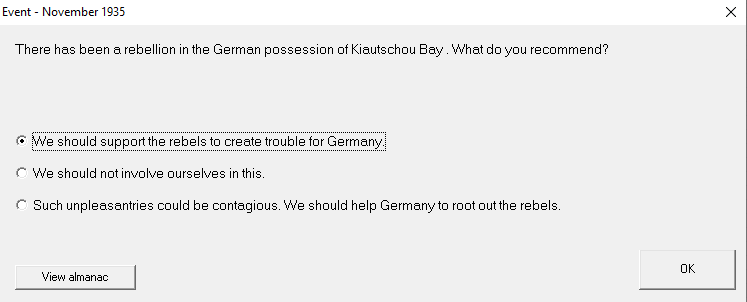 Germany, having gotten on our bad side with this Austro-Hungarian alliance, now gets to see the error of its ways.
January 1936
I confess, I was a little concerned it wasn't going to happen at all, but at long last—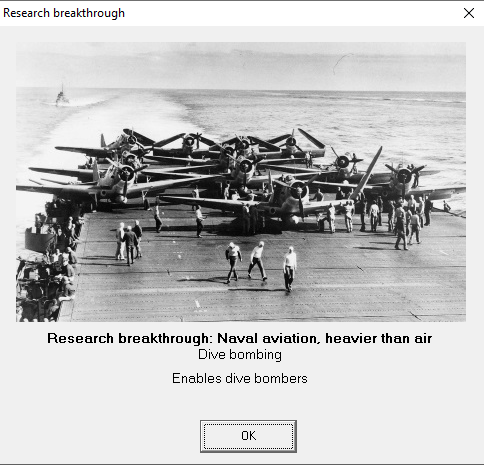 Dive bombers!
Time to get a native French design going. I put the word out to the aircraft manufacturers.
On the subject of French designs, Magenta will be entering service in two months, so I start on a design study for Liberté, our new 35,000-ton, 90-plane carrier.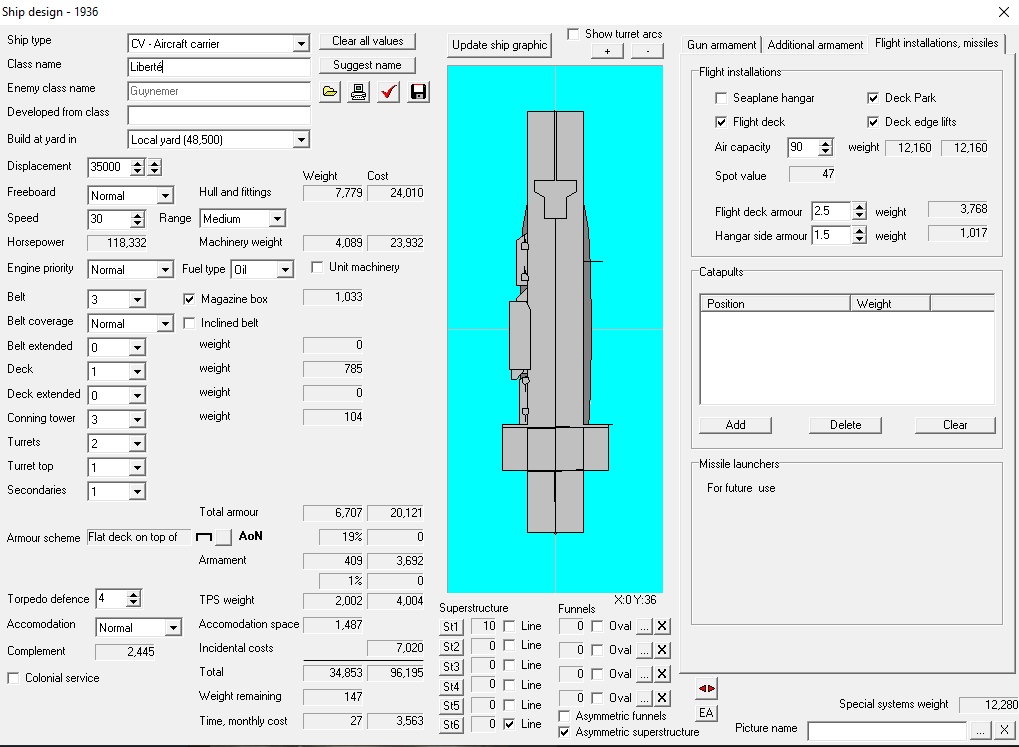 Regrettably, the art does not live up to the name, but drawing carriers is hard.
February 1936
Anti-naval protests in Britain coincide with a rebellion in Malta. It would be a tremendous feather in the French cap to snag that from the British—nearly as much as taking Gibraltar would.
May 1936
Those German rebels we supported won their fight for independence.
July 1936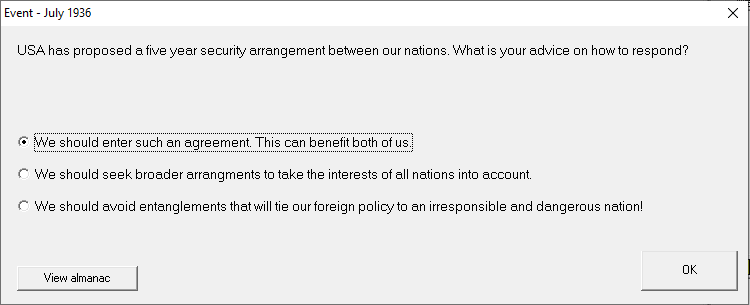 Some historical friends of France come knocking with an extremely compelling offer. Budget impact notwithstanding, I'm happy to say 'yes'.
August 1936
We select Bloch's dive bomber prototype, with 30 knots of speed and an extra 120 miles of range over our existing North American Dolphin, to say nothing of a vastly improved bomb load. To put it another way, the forthcoming Bloch MB.122 can carry a 1,000-lb bomb 50 miles further than the old plane could carry a 300-lb bomb.
While Bloch goes from 'prototype' to 'production', I ask the design bureaus for a new torpedo bomber—ours dates to 1932, and with wars seeming likely in the next few years, up-to-date aircraft will be a major advantage.
December 1936
The perfidious Austrians have attempted to torpedo a French ship in peacetime!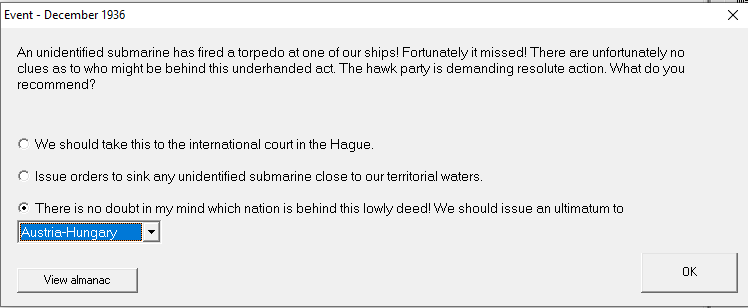 Or at least, that's what we're saying.
And, at long last, we get a war. Not exactly the war we wanted, but it'll do. Germany and Austria-Hungary face off against France and the United States.
Our existing corvettes and corvette-like destroyers are sufficient in number to cover our trade protection requirements, so the whole of the fleet is active. I really want to get a battle in this update if I can, so I'm going to run the war for a month, fight in January (if it's wise), and then we'll consult on strategy.
January 1937: The Battle of Durazzo
A destroyer action against the Austro-Hungarians. Their destroyers remain slightly more advanced than our own, but this time around, we have a huge amount of air cover—100 planes within 30 miles. I'm more inclined to hold the range and fight it out.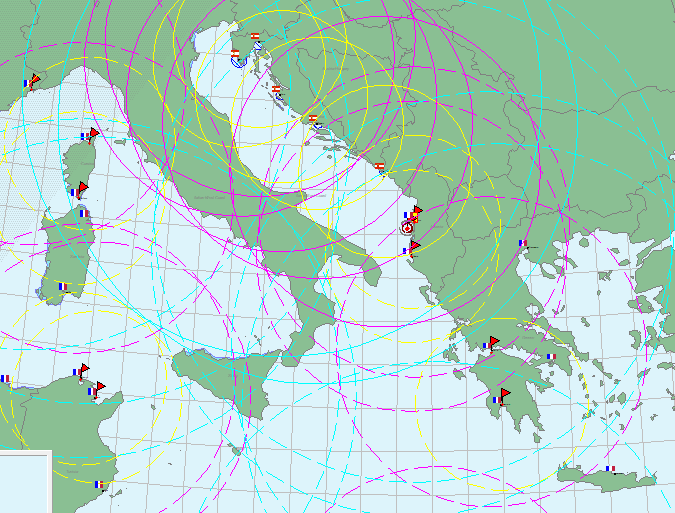 The air range map is unreadable nowadays. I wonder if there's a way to toggle friendly/enemy bases.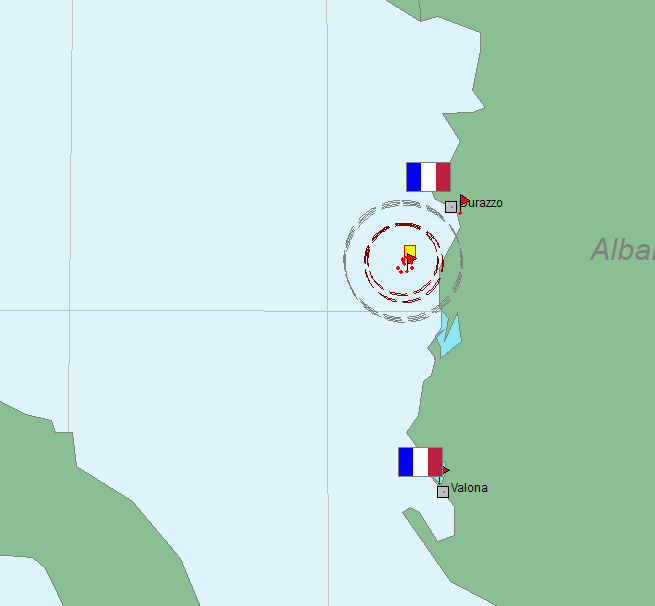 The battle will be fought over French Albania. Did this need a caption? Maybe not, but 'French Albania' is a hilarious thing to be able to write.
It's 7:56 a.m. Cloudy weather prevails, and sunset is in a hair over eight hours.
8:10 a.m.
Recon planes take off around the Mediterranean. Hopefully we have a handle on where our enemy is soon, although the weather may make that problematic.
8:30 a.m.
It does. Gabion, a 35-knot Flamberge built in 1920, spots the enemy to the south—shortly after a recon flight passed overhead from that direction.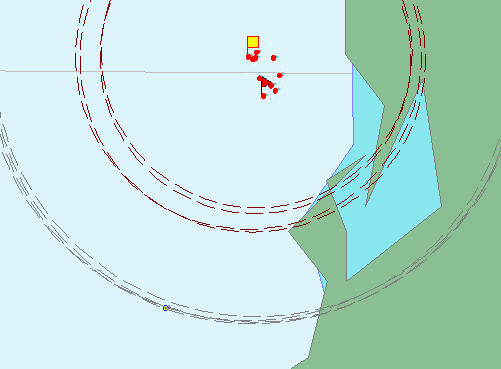 The destroyer force turns north toward Durazzo, until we have a better idea of the size of the Austrian group.
8:43 a.m.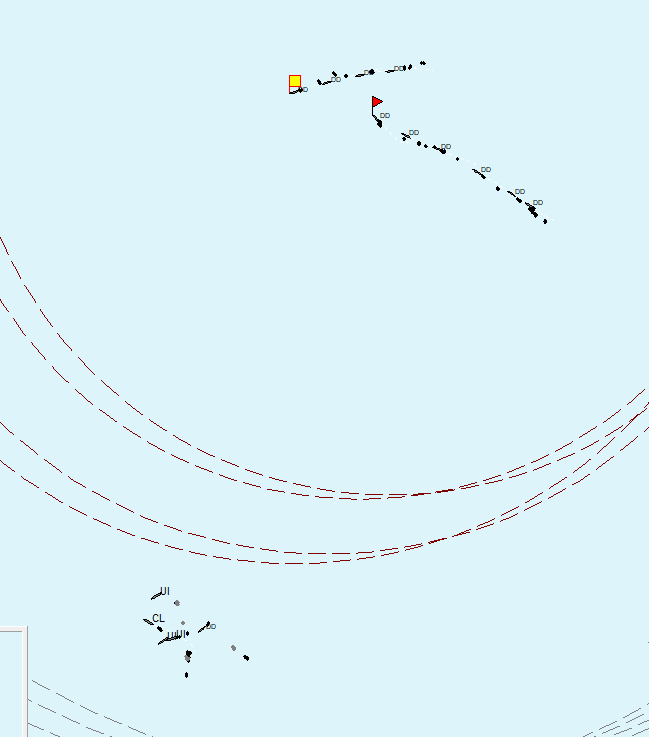 The enemy flotilla is making smoke, which is causing some difficulty in identifying them and counting them, but it looks like there are about five of them, against our nine.
One of the ships is purportedly a light cruiser, but I suspect that identification might be incorrect. Even if it isn't, the light cruiser class in question is less well-armed than our recent destroyers.
8:50 a.m.
Unhelpfully, Airbase Durazzo radios us to say that a light cruiser was spotted at 7:28 a.m.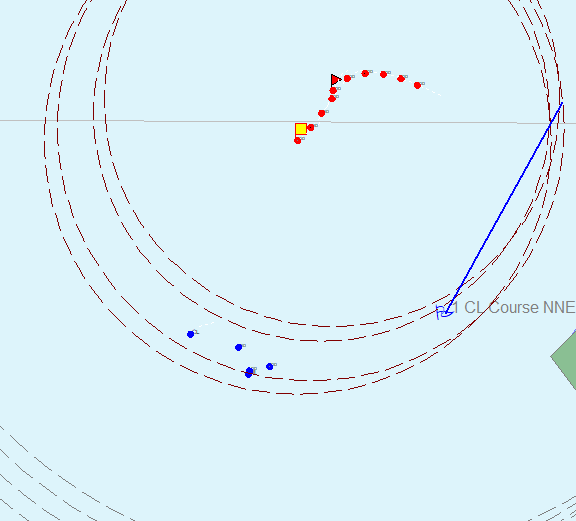 Thanks, guys. Better news:

Airbase Valona, instead of sending untimely spotting reports, is preparing a naval strike.
9:00 a.m.
That naval strike is still probably 45 minutes away, however, and the destroyers' guns are beginning to tell.

Perhaps ashamed of their poor performance the last time they faced off with their Austrian counterparts, the French destroyer gunners are keeping up an accurate fire while at a range of 9,000 yards and a speed of 34 knots.
The goal isn't to sink the enemy with gunfire, however, so much as to keep them bottled up to the south until the air strikes arrive.
9:13 a.m.
The Armee de l'air should be on its way in the next ten or fifteen minutes. The tally of hits is nine to one in our favor, even though the Austrian destroyers each mount eight main guns.
9:48 a.m.
The Austrians have gotten a little bit more dialed in in the past half-hour, narrowing the gap slightly.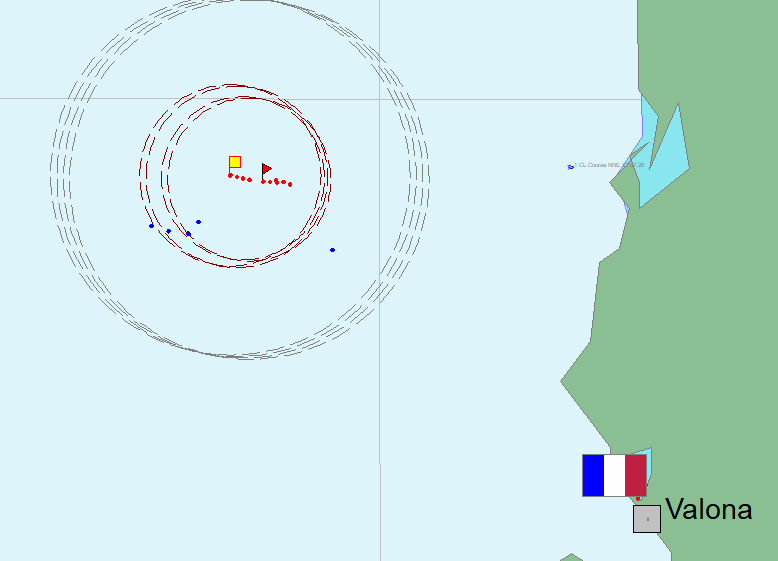 French gunnery remains superior, however, and the fact that our heaviest destroyers carry 5″ guns (against the Austrian preference for 4″) means that each of our hits counts for more.
10:17 a.m.
I originally said that the aim wasn't to sink the enemy with gunfire, but so far, that's going pretty well.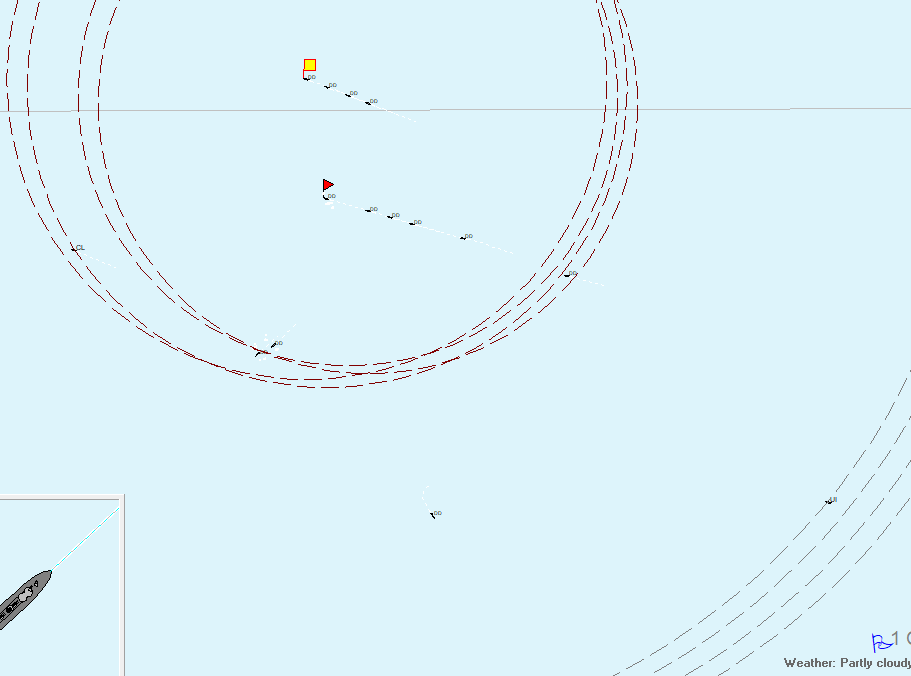 The five-ship Austrian flotilla is now split into four groups, as damaged ships peel off to avoid the fight. I send the supporting flotilla—five vintage Flamberge-class ships, from the early 1920s—to hound the wimpy light cruiser, while taking the lead flotilla, with some modern Epee-class ships and a semi-modern Glaive, after the retreating destroyers.
10:43 a.m.
Enemy aircraft appear on scene first, heading for the older destroyer flotilla. Notably, none of these ships have AA guns; perhaps we should rectify that oversight with some judicious refitting.
11:11 a.m.
Flamberge takes a hit to the engine room, delivered by an enemy dive bomber. She drops out of line, but doesn't seem to be in danger of sinking. I'm beginning to wonder where the French strikes are—perhaps they launched based on the bad scouting report from earlier.
11:51 a.m.
Another wave of maddeningly-accurately-launched strike planes finds Epee, one of the modern ships in our lead group, but as a consolation, Epee hits an Austrian destroyer's magazines and sends it to the bottom.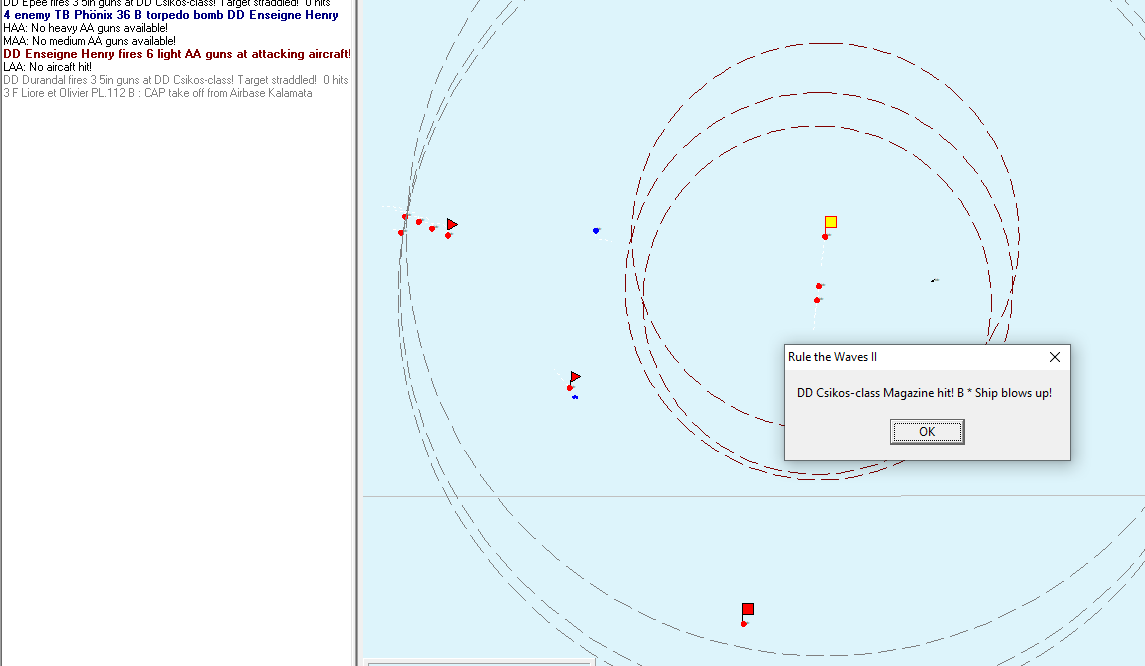 12:25 p.m.
It seems like things are quieting down now. The only enemy ship in sight is a single destroyer, which is being chased by six French ships. (The other three French destroyers are in various states of disrepair, and are heading toward port in no immediate danger of sinking. One was hit by a torpedo launched by a torpedo bomber, which is surely grounds for a court martial—how do you fail to dodge an air-launched torpedo in a destroyer?)
12:38 p.m.
It happens again! Espignole is hit by two torpedoes, and heads for the bottom.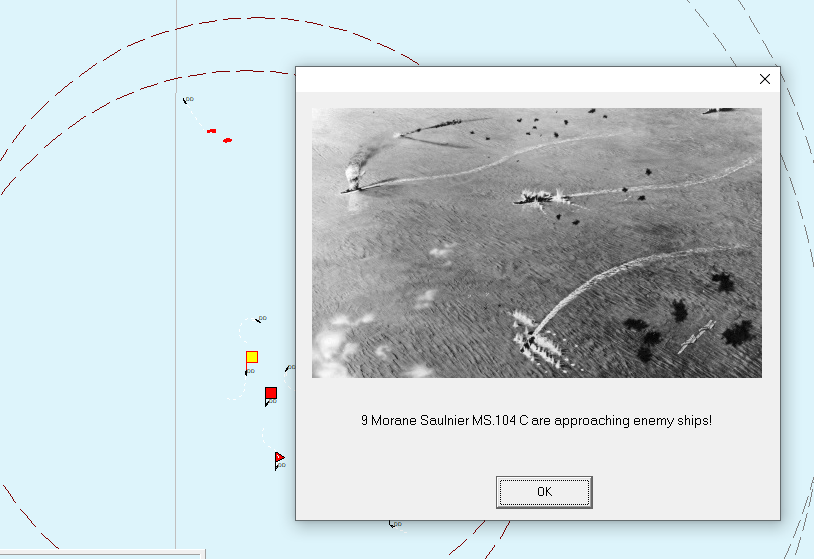 Finally, some French aircraft show up on the scene—these medium bombers, and twenty torpedo bombers. One of the medium bombers scores a hit. A little later, a group of dive bombers joins in the fun, and before long, the enemy ship is slipping beneath the waves.
15:04 p.m.
With six destroyers still in reasonably good shape, I turn the flotilla back east, toward a wounded Austro-Hungarian ship being herded toward the Albanian coast by a pair of similarly-wounded French destroyers.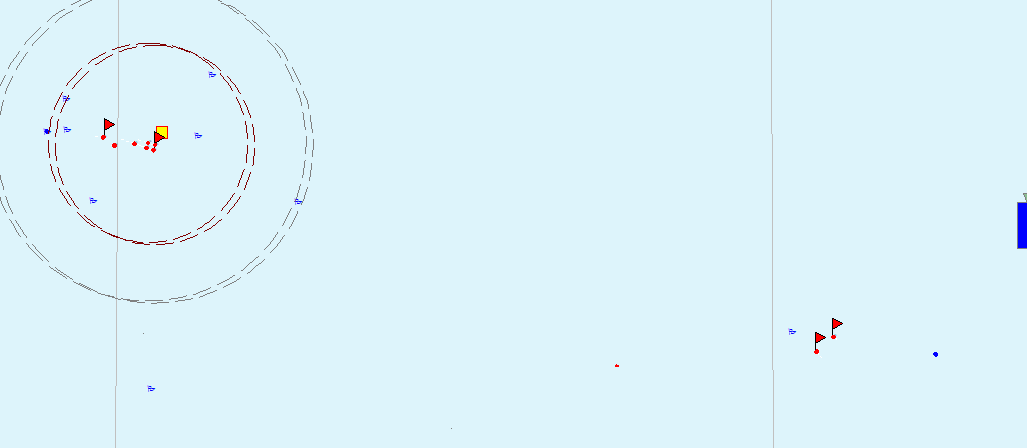 15:31 p.m.
Fanion, another obsolete destroyer, sinks due to accumulated battle damage.
16:04 p.m.
As dusk approaches, the French flotilla catches up to the damaged Austrian destroyer.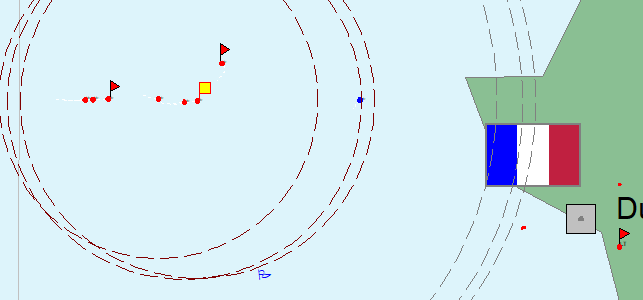 Shortly after, it goes under.
Aftermath
Night falls, and the French force returns to port. It goes into the books as a minor victory… and then the points are lost altogether, as Germany officially enters the war.
Anyway, the only reason the game called it a minor victory is that we were playing for table stakes. I'd call it a convincing win. Although French air power was a bit disappointing, the destroyers' gunnery was superb. The Austrian force had 36 4″ guns, against our 22 4″ and 8 5″, and despite the deficit in guns we scored more hits by a dramatic margin.
Plans and Intentions
Now, though, we're playing with the big boys.
Europe
In Northern Europe, facing Germany, France has eight battleships, five light cruisers, two aircraft carriers, three light carriers, and 18 destroyers. The Americans have shown up with some reinforcements: a squadron comprising one battleship, four light cruisers, two light carriers, and five destroyers. Flying top cover from land bases are 220 aircraft. Another 20 from an in-progress expansion are coming soon.
The Germans have their whole fleet here, more or less: 10 battleships, six battlecruisers, nine cruisers, 21 light cruisers, four light carriers, three seaplane carriers, 49 destroyers, and 23 corvettes, along with 420 land-based aircraft.
Now, it's not quite as awful as it seems for France. One reason why: we may get more reinforcements from the Americans, who have a fleet even larger than the Germans do. A second reason: in the areas where the war is likely to be fought—the Bay of Biscay, the Channel, and the western North Sea—France has more airbases in range and more aircraft carriers, in particularly counting the American flotilla here in support. A final reason: the French battle line is again faster than its counterparts, thanks to refits in the late 20s and early 30s. The ships facing Germany have a minimum speed of 26 knots, which is faster than all but the enemy's newest classes. In fast battleships/battlecruisers, the French and German fleets are near parity—eight to seven to us, with heavier armor on our side and heavier guns on the Germans'.
The Mediterranean
In the Middle Sea, we are again inferior to our opponent on paper.
France deploys two battleships, our lone heavy cruiser, six light cruisers, one seaplane carrier, 22 destroyers, seven corvettes, and 460 land-based aircraft.
Austria-Hungary has six battleships, seven heavy and three light cruisers, one light carrier, one seaplane carrier, 13 destroyers, and 30 corvettes. Germany adds a light cruiser, two destroyers, and one corvette. The Austrians have 300 land-based aircraft.
Again, there are some confounding factors. France has a lot of aircraft in the Mediterranean, along with a lot of air bases, which means we're nearly guaranteed top cover wherever we are. Austrian air power is only dangerous near the Austrian coast and near Casablanca, where large combats may or may not happen on the regular.
Austria has some serious battleships—37,000 tons, because dictatorships get to cheat arms limitation treaties, with 12 15″ guns. Relatively light armor, though, with only a 12″ belt. Even lightly armored French battleships start at 13″.
Strategy
Broadly speaking, what's our goal for this war? I see two. Say so if you think there are others.
Survive without losing territory or large numbers of warships. Fighting Germany and Austria-Hungary together is a big ask for France.
Gain Morocco.
Right now, our forces are divided between the North Sea and the Mediterranean in a way which seems to me to be unhelpful. In short: we can't win a pitched battle against either Germany or Austria right now. So, in that spirit:
Should we concentrate the fleet to beat up on one enemy first? If so, Austria-Hungary or Germany?
Note that we're currently being blockaded by Germany, which will slowly tick up the enemy's war score.