At the end of the last update, I asked four questions. Here they are again, with (the answers):
Big guns or high speed for the next battleship? (Majority favors big guns.)
Rebuild or scrap Marengo? (Approximately a tie, so I'll break it: scrap her.)
Destroyer-cruiser mix, or destroyers? (Destroyers win by a country mile.)
Montcalms to light carriers? (Approximately a tie, so I'll scrap one and carrier-ize the other.)
January 1931
Time to get some ship designs… designed.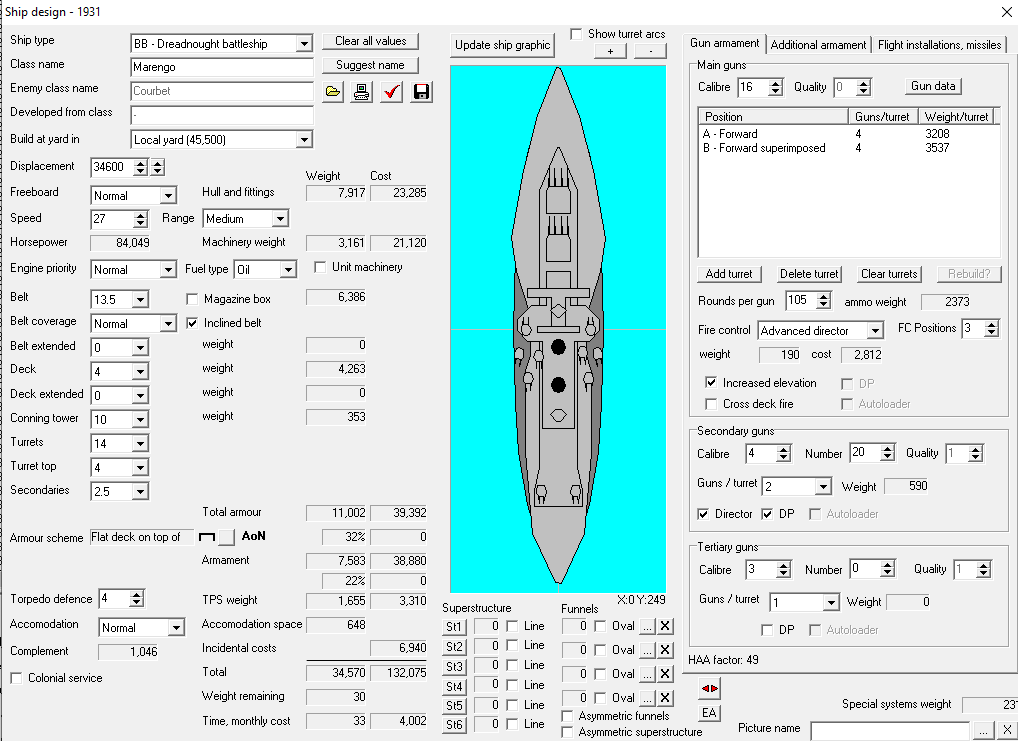 In honor of the dear, departed Marengo, I name this new class of ships Marengo. 16″ guns, AA directors, level 4 torpedo protection, and a seaplane hangar and catapult. Still only 27 knots against our ~30-knot carrier fleet, but she's not so much slower that she'll be entirely left behind.
Montcalm goes to the scrappers, while her counterpart Bruix becomes a 29-knot, 24-plane light carrier.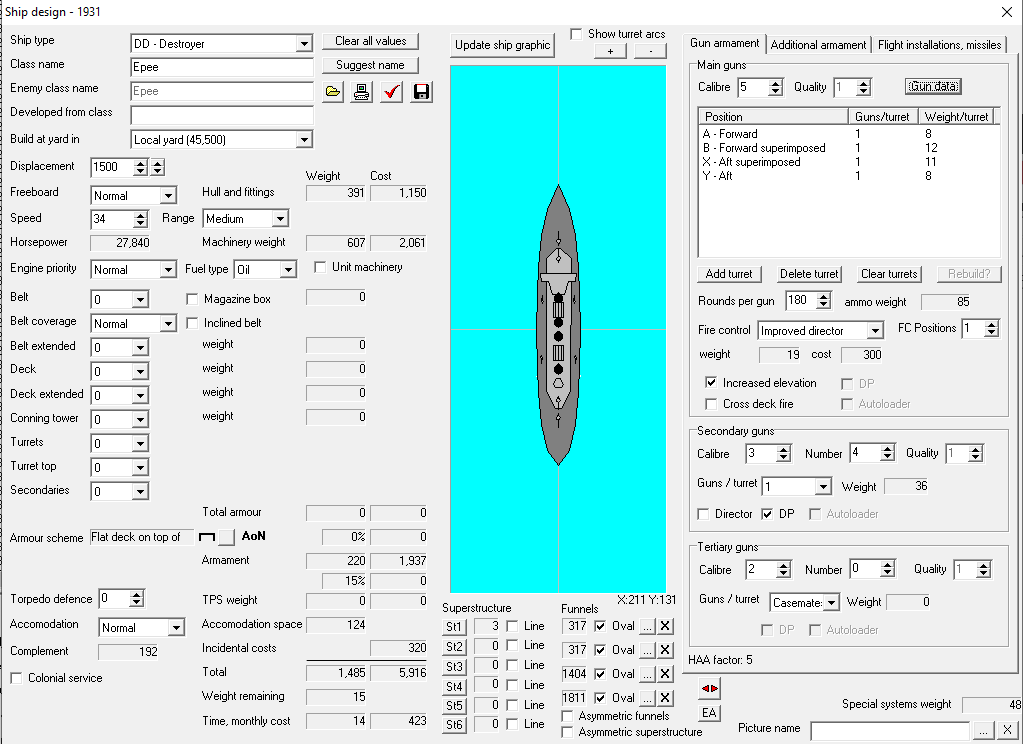 Our new destroyers will be called the Epee class. Because we haven't figured out dual-purpose main guns or dual turret mounts on destroyers yet, they're still notably inferior to their Austrian counterparts, but nevertheless a good followon to our existing Glaives. They are a bit spendy, though—two at once, for the moment.
April 1931
Catastrophe! Tensions are low, and Parliament votes to reduce naval spending. I think we'll still be able to fit Marengo in, but it might scupper our plans for a fleet exercise this summer.
May 1931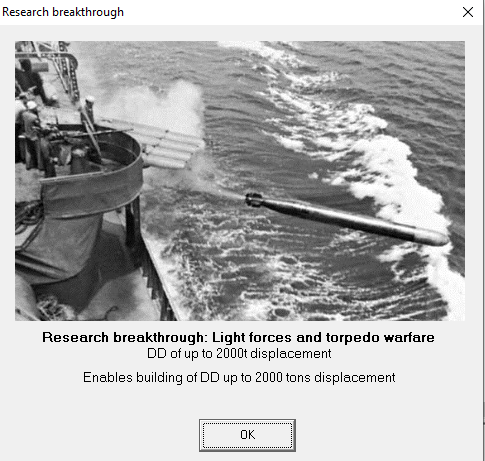 Ah, what timing, after we just designed a new class.
Honestly, though, I'm not inclined to redesign it until we have dual-purpose guns and twin mounts for destroyers.
French scientists also work out +1 quality 14″ guns. Regunning Ocean, Suffren, and Courbet will make them much better ships at very little cost—4 months at 718 funds per month, plus a litle extra for Ocean and Suffren to retrofit better fire control.
July 1931
Blueprints for an Austrian cruiser suggest that our sole remaining cruiser is still superior.

In fleet tactics, we've figured out reliable voice radio, which will further reduce the likelihood of signaling errors during battle. We also develop improved arrestor wires, and buy a slightly longer-legged torpedo bomber from Dewoitine.
September 1931
The Navy League mobilizes against a new government attempting to cut naval spending, at the cost of very mildly increased tensions with Germany.
January 1932
Bruix finishes her rebuild and ten new submarines are launched this month, freeing up the budget for rebuilds of Ocean and Suffren to use the most advanced 14″ guns and fire control available. (Suffren packs on some more AA, too.) In addition, there's money for another pair of Epee-class destroyers.
August 1932
With money in the bank and no wars on the horizon, it's time for a quick exercise.
Fleet Exercise 1932
The goal: see how well our heavily-armored and AA-gunned battleships can do against determined air attack. Ocean, Suffren, and Marseilles (the latter as a control) face off against Bearn, Bruix, and Arromanches, each side with small supporting forces.
It's a nice day, and over the course of the first hour, recon planes take off and head for the horizon.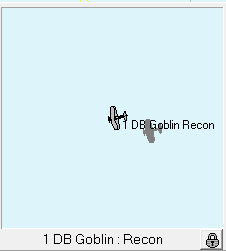 Answering a reader question, they are in fact biplanes.
Something I didn't realize when I bought the Gloster Goblin license was that it's relatively short-legged compared to our torpedo bombers. (The yellow circle against the purple one.)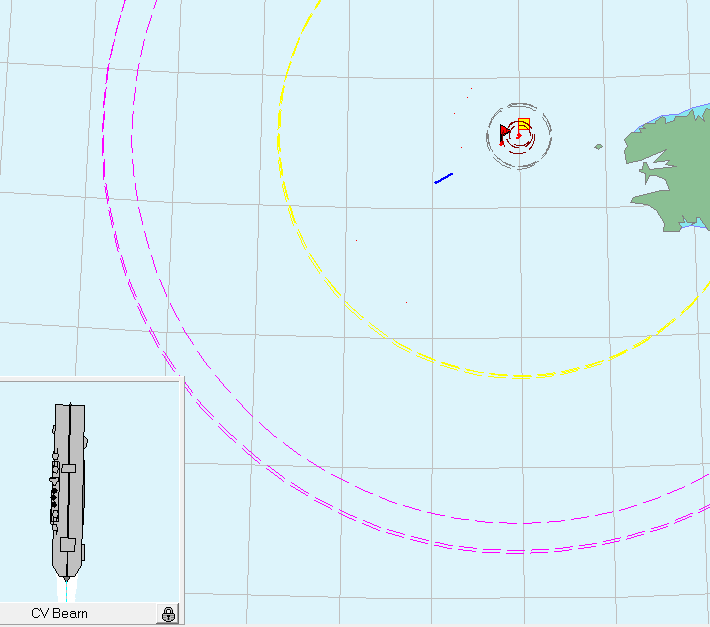 Also of note in the preceding image: the enemy force has been spotted. The course and composition in the scouting report look good, so I'm going to gamble a bit on the whole report being high-quality and throw a Sunday punch at it.

That's… 53 planes. Not our whole force (we can't launch every plane without leaving some below deck and spotting them after the first wave launches), but not bad for 1932. They'll be on target at around 2 p.m., against 12:55 right now.
Or sooner, maybe.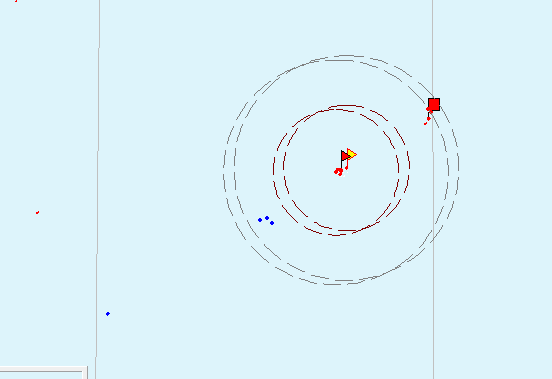 At 1:06, the screening light cruisers come across enemy light forces, then turn tail and run toward the carriers.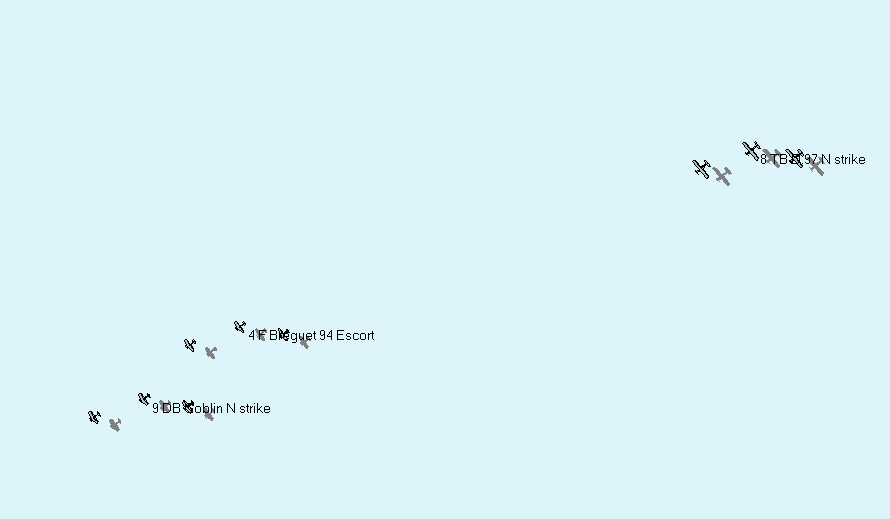 By 1:23, a number of planes are already in the air. (They're going piecemeal, since I didn't hit the 'coordinate strike' button, but I think that's okay given that they aren't facing any CAP. Also, we haven't developed coordinated multi-carrier strikes yet anyway.)
At 1:36, a formation of 8 torpedo bombers and 9 dive bombers approach enemy ships. Four minutes later, I get the first results in the combat log.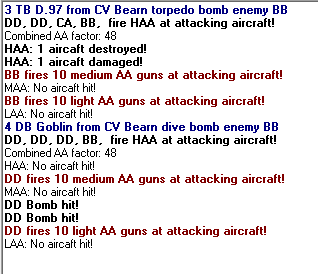 A few dive bomber hits on a destroyer, but withering AA fire from the dual-purpose guns on the battleships seem to blunt the torpedo strike pretty effectively.
By 1:46, the first wave seems to have wrapped up, with the AA guns the clear victors. The total score is three bomb hits, two on a destroyer and one on what the log reported as a battlecruiser—perhaps Marseilles?
At 2:15, aircraft begin returning. I ready them for a second strike.
It, and indeed the wargame as a whole, are the definition of inconclusive. The strike comes across what seems to be a dispersed enemy force, focusing more on the seaplane tender (Commandant Teste) accompanying the battleship force than any of the heavy units.
The final tally after two large strikes is one torpedo hit and two bomb hits, spread across Marseilles and Commandant Teste. (The reported hits on a destroyer must have been fog of war.) Teste took heavy damage, Marseilles took light damage.
Very few of the torpedo bombers made accurate launches, and the dive bombers didn't obtain a great measure of glory, either. In Rule the Waves, light and medium AA are much more important for causing inaccuracy in attacking aircraft, rather than actually destroying them. That seems to be borne out by today's results, and suggests that a retreat in carrier building over the next few years might be wise.
September 1932
The traditional upheaval in an African colony results in a budget bump and a rise in tensions. Austria might be the next war.
October 1932
Joffre enters service. Her air wing is 26 each of fighters, torpedo bombers, and dive bombers.
Her completion, along with an increase in budget from the rising tensions with Austria, permit me to lay down a second Marengo-class battleship—the first time we've had two battleships under construction at the same time in almost two decades.
January 1933
Austria-Hungary has seized a colony, and not just any colony, Morocco. This cannot stand! That's our northwest-African slice of the pie!
In less affronting news, we can now build destroyers with twin turrets.
Status: Image Dump Style
I'm a bit behind already this week, so it's going to be light on analysis and heavy on information.
Finance and Diplomacy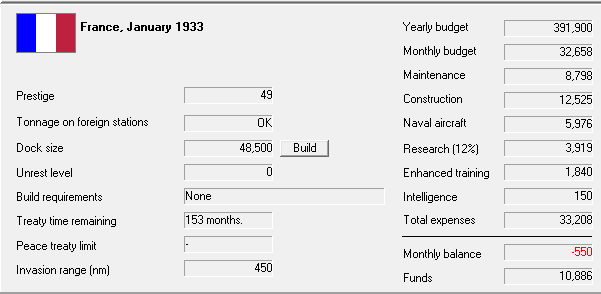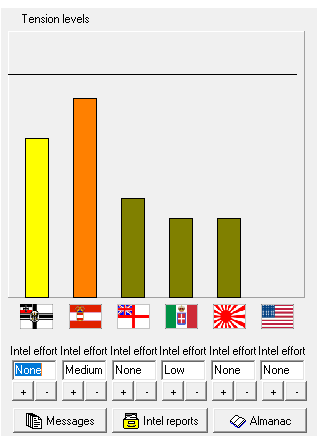 Naval Comparison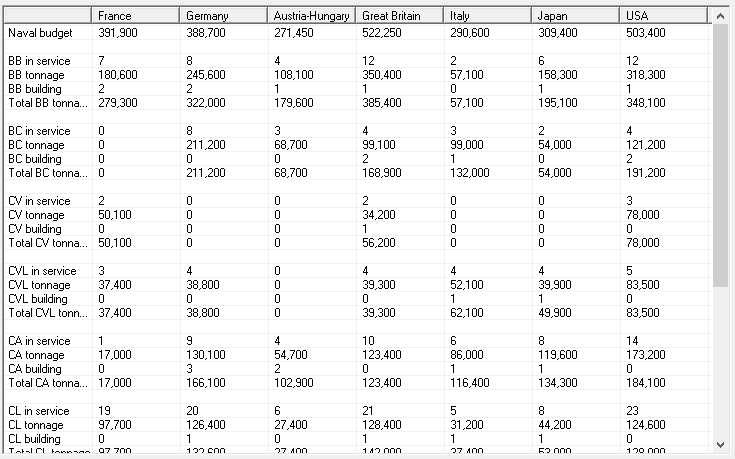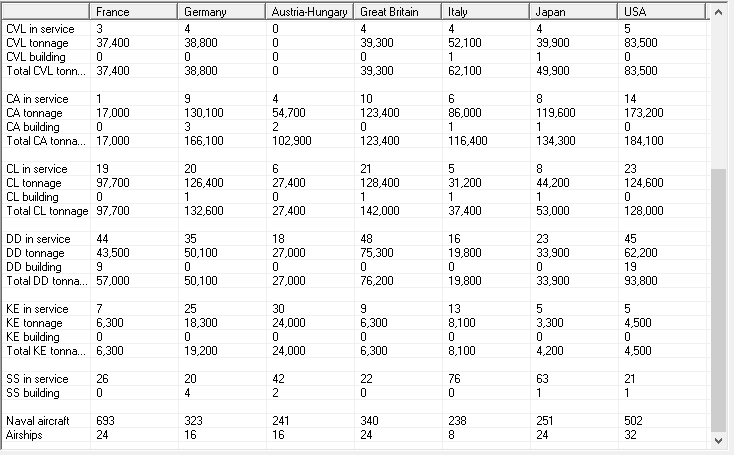 The Fleet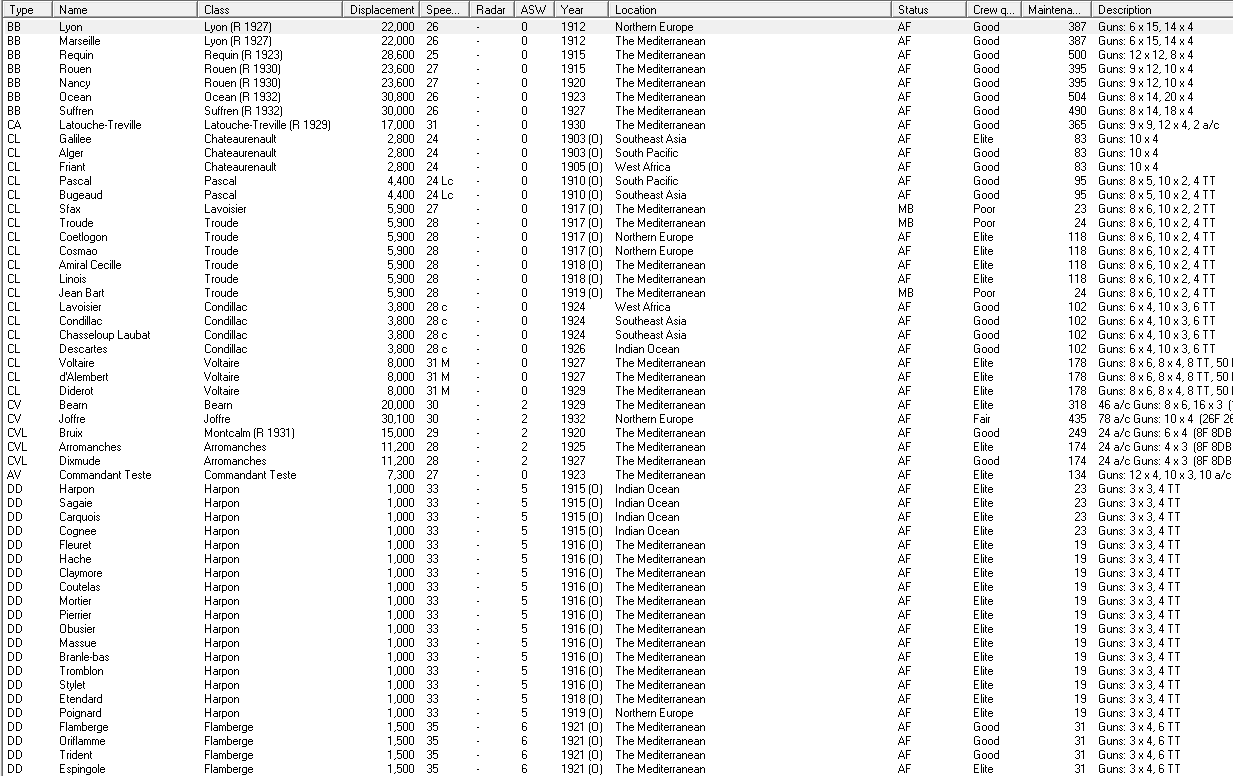 Shipyards

Plans and Intentions
I think it's obvious that we should go to war with Austria and take Morocco from them—it's an affront that they have it in the first place.
Beyond that, it seems like the question is, should we go all-in on air power, or wait until the 1935 update (or later)? We have two brand-new battleships coming, one in early 1934 and one in mid-1935, Magenta and Marengo. As they leave the yards, should we replace them with Joffre-style fleet carriers? Or should we continue the battleship-building program into the late 1930s?
And, since that's a fairly specific question, do you have any thoughts about our strategic direction? Anything I'm neglecting to consider? Anyone else I should be picking fights with? Feedback generally?