January 1927
So, based on voting and my own intuition, here's what we'll be doing construction-wise this update.
Bearn, our first full-size aircraft carrier.
The next Ocean–Suffren-type battleship.
A 30-knot battlecruiser or heavy cruiser, to provide some punch against enemy ships of the same time and ensure our aircraft carriers have protection against heavy surface forces.
New airbases in Bizerte, Tunisia, and Kalamata, Greece, along with re-equipping our flying boat squadrons with medium bombers.
Of the designs I can come up with, the heavy cruiser seems to make the most sense—I can get a capable 32-knot ship for a reasonable price.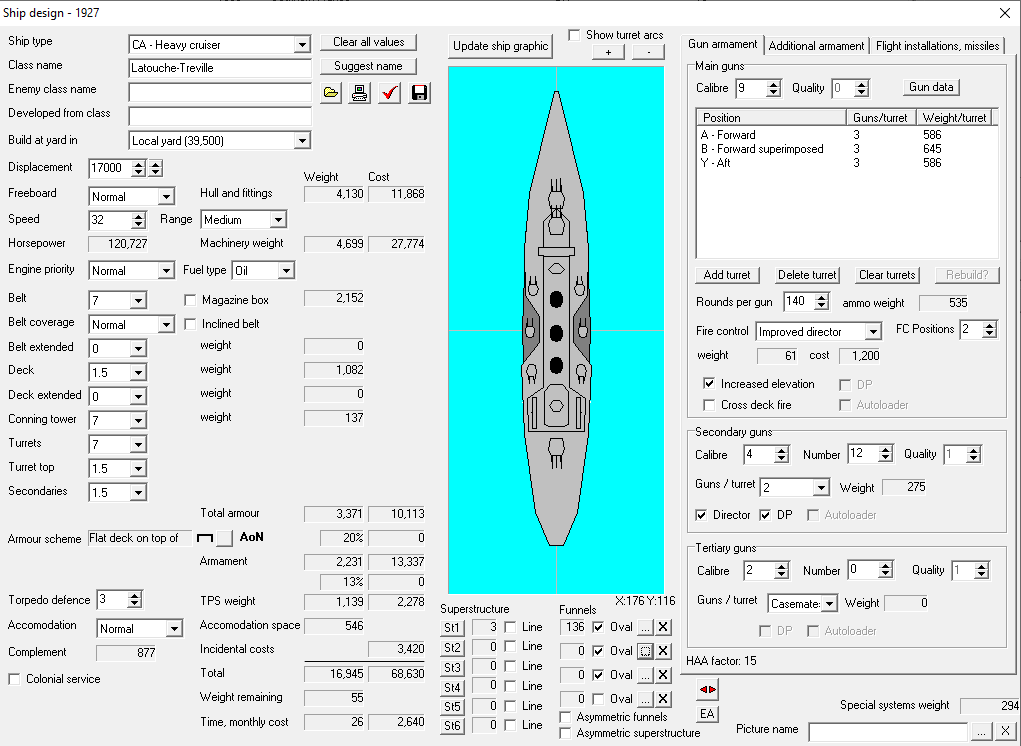 The Latouche-Treville class mounts nine 9″ guns as its main armament, along with dual-purpose 4″ secondaries in twin turrets (a new innovation). Her armament will stop 7″ guns, so she's an overmatch for any light cruisers she can catch, and she carries a pair of seaplanes with seaplane catapults, allowing her to serve as a fleet scout when the carrier becomes a primary tool in our toolbox.
February 1927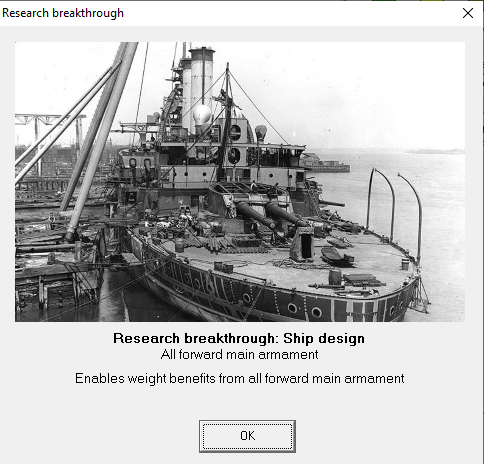 Why is this good for us? Well, on the surface, because our battleship designs have featured an all-forward main armament already. A bit deeper, because mounting all your heavy guns forward allows you to make your armored citadel shorter, which saves weight on armor. The next battleship design's scheduled for summer. We'll see what it buys us then.
March 1927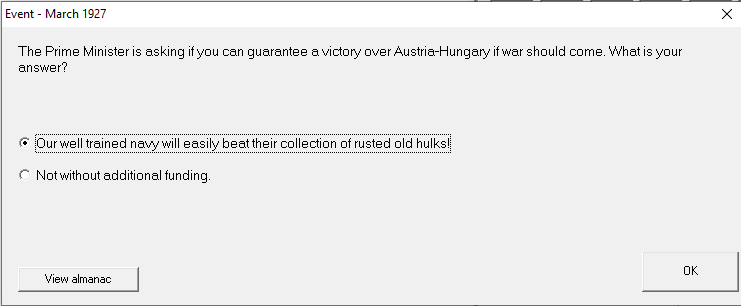 More opportunities to tweak the Austrians! I'll take it.
Our new medium bomber enters service, which means I'll have to slowly and laboriously change a bunch of air groups around. I haven't done a game with a lot of land-based air before. I wonder if I'm missing some feature in the UI that makes this easier.
With an awful lot of money free, I start on another of our projects, rebuilding the Lyon-class battleships to slightly more modern standards.
April 1927
The second Voltaire-class light cruiser enters service. They're capable ships. It's a shame there's only room in the budget right now for the two we have.
If war breaks out, we'll have a chance to build a few more, I suspect.
May 1927
All-forward main armament buys us a few features: more secondary guns, more rounds per main gun, and crucially, another knot of speed. In the grand tradition of naming these after our old pre-dreadnoughts, meet Courbet.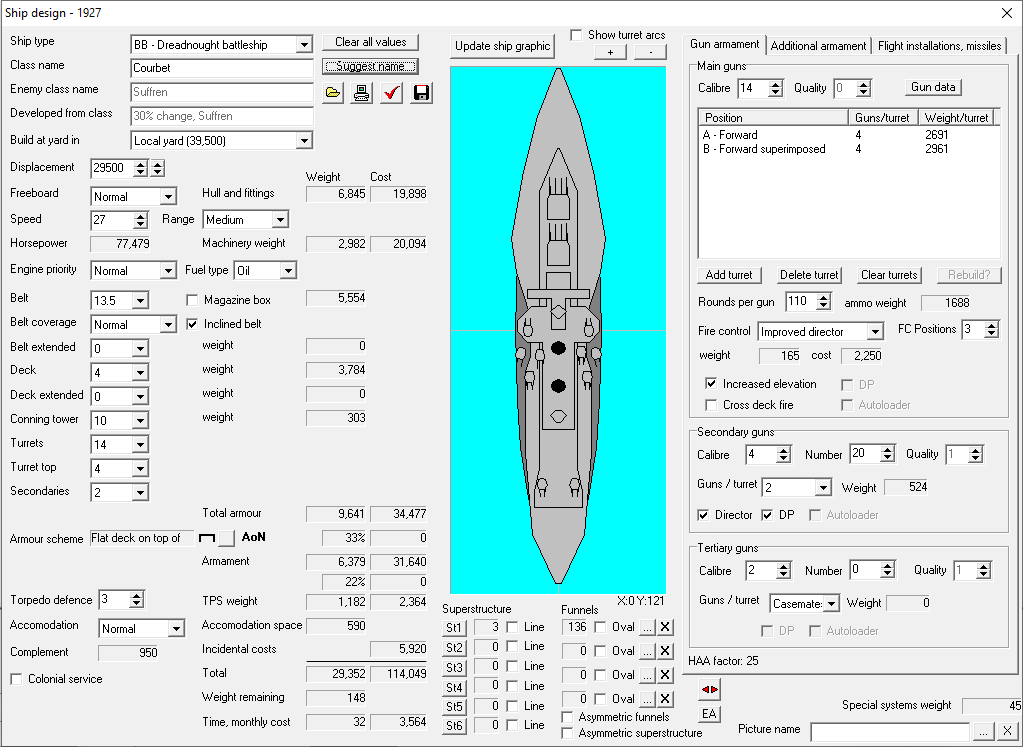 June 1927
The fleet sails for the Mediterranean to counter aggressive exercises by Austria.
July 1927

Blueprints for an under-construction Austrian battleship—the most precious of spy data. It's strictly inferior to our own modern ships.
Suffren enters service, and will be joining the fleet in the Mediterranean soon.
August 1927
The Prime Minister wants more battleships. I take the deal, on the theory that we'll be at war with Austria soon enough that there won't be time for the fact that I'm not going to hold up my end to come back to haunt me.
October 1927
Who called it? War is declared, after Austro-Hungarian saboteurs blow up a French destroyer in Brest.
The first battle of the war is a destroyer raid; a number of our corvette-destroyers are in action, because I haven't had time to set them to trade protection yet. The plan is more or less to run toward port and leave the field to the Austrians, unless there are fewer of them than I expect.
There is, regrettably, little fighting to be done. This is where the Austrians are better than we are. It still comes out as a marginal victory because they elect not to get stuck in, abandoning the bombardment target which was their objective.
November 1927
This month's battle is a convoy defense. The convoy is well to the west, but the Austrians have caught us in an interesting position. North of the sighted ship is our carrier force—Amiral Charner and Arromanches. South is a trio of screening light cruisers. West are Ocean and Suffren, our new modern battleships.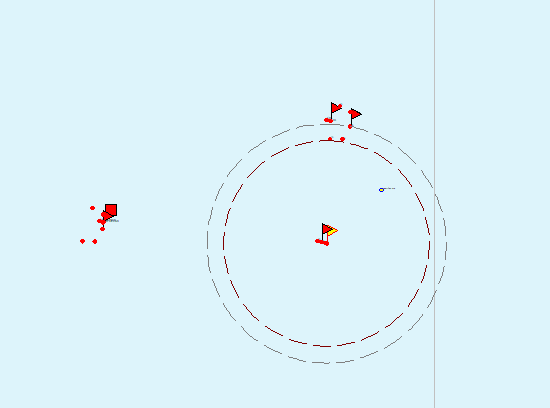 Our medium bombers are in range of the enemy. It's 1:36 p.m. on a blustery day; sighting range is limited, but air operations are possible, and when the carriers turn into the wind, they'll be heading away from the enemy. They immediately begin to prepare a torpedo bomber strike.
Dusk comes in three hours.
1:43 p.m.
Another ship appears to the north of the carriers; they're sandwiched. Both ships, however, are destroyers.
2:40 p.m.
Although our new light cruiser d'Alembert takes a torpedo hit, she has (unusually for a light cruiser) substantial torpedo protection, and weathers it like a champ. Our light forces may not be quite up to Austrian standards, but three light cruisers and six or eight destroyers are perfectly sufficient to force the Austrians back.
The carriers get some reconnaissance aircraft in the sky, following the destroyers as they run north, and turn south, to hide behind the battleships.
4:40 p.m.
The recon planes fan out from the carriers to the north, passing the Austrian destroyers (fleeing north) and turning back as dusk approaches. They don't spot anything else.
1:56 a.m.
So, imagine my surprise when the scenario ends and I see an Austrian force not twenty miles from my own.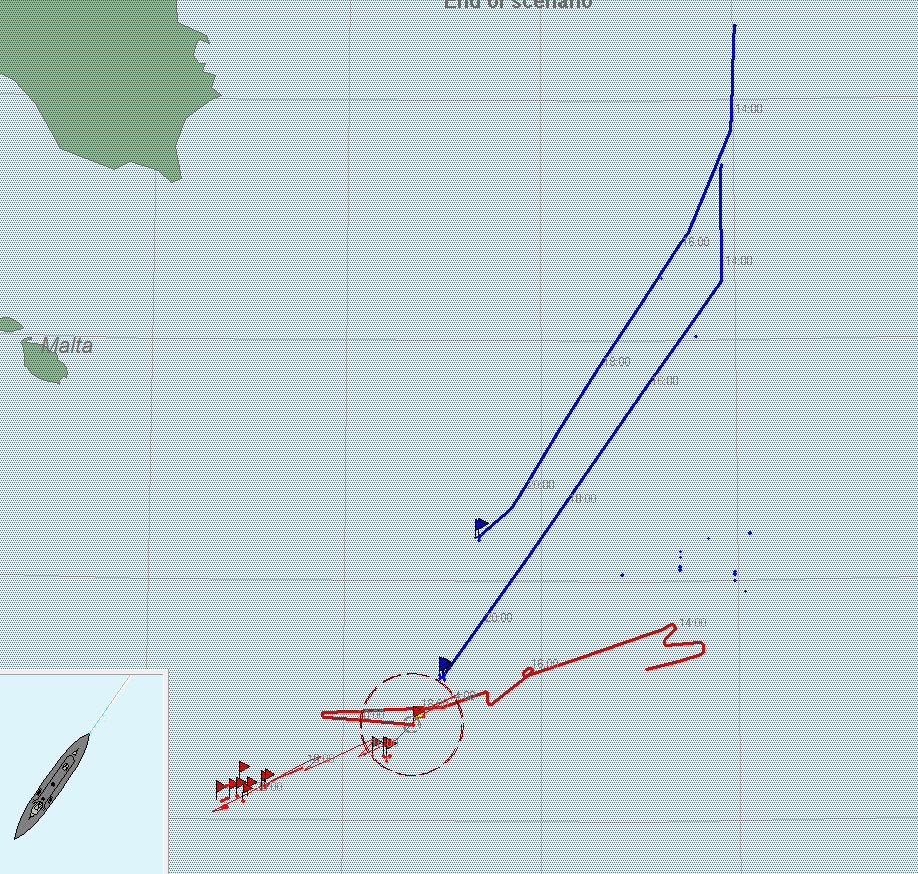 The Austrians were just north of my searching planes (which had gone a little ways past the dots representing the destroyer sightings) when they turned back, shortly before 4:00 p.m. If the Austrians had been twenty minutes faster, we probably would have spotted them, and therefore known they were out there.
December 1927
This one's a wash. I decline battle with the Austrian destroyer fleet in the Adriatic, the Austrians decline to attack a convoy in the Atlantic protected by Montcalm.
January 1928
Austrian submarines sink a French destroyer and one of our older seaplane tenders. A battle between an Austrian heavy cruiser and a French light cruiser ends inconclusively. The Austrians break off the fight as night approaches.
February 1928
We get some back, sinking a submarine, thwarting several patrolling Austrian raiders, and intercepting a raiding light cruiser.
The light cruiser Surcouf, of the Lavoisier class, approaches a target steaming about midway between Mers El Kebir and Murcia, Spain.
It's the sole Austrian Jupiter-class light cruiser, their largest and best example of the type. She has more guns than Surcouf, but Surcouf's guns are high-quality 6″ numbers against the Austrian 5″, and Surcouf has better armor to boot. We'll see if we can ring Jupiter's bell enough times to slow her down to Surcouf's speed.
Over the course of the battle, Jupiter gets very lucky. Although she scores only 8 hits to Surcouf's 14, Jupiter's last hit disables Surcouf's electric generators, slowing her down and giving Jupiter time to escape.
Not, however, for very long. One of our submarines, lurking nearby, torpedoes Jupiter and sinks her as she flees the scene. It goes into the books as a major French victory.
March 1928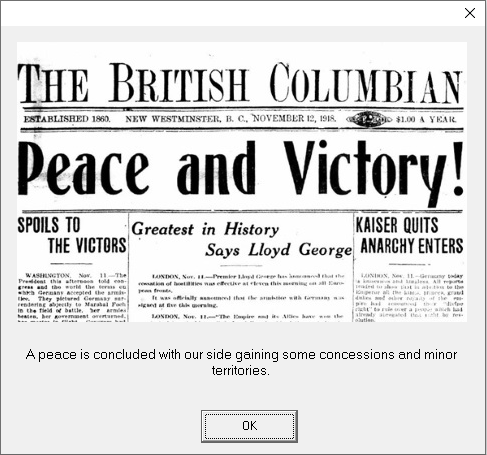 Well, that wasn't quite the ending I expected. It was such a quick war that we didn't even get any serious reparations out of it. Bit of a waste, truthfully, and now we have to deal with the postwar budget malaise.
April 1928
I make the tough decision to scrap Amiral Charner. She's slower and less capable than our two purpose-built light carriers, and aircraft aren't quite the deciding factor yet they will be in the future.
July 1928
Dewoitine comes up with an improved version of their medium bomber, which adds 15 knots of speed and 30 miles of range. It doesn't take me long to decide that yes, I want to buy that.
October 1928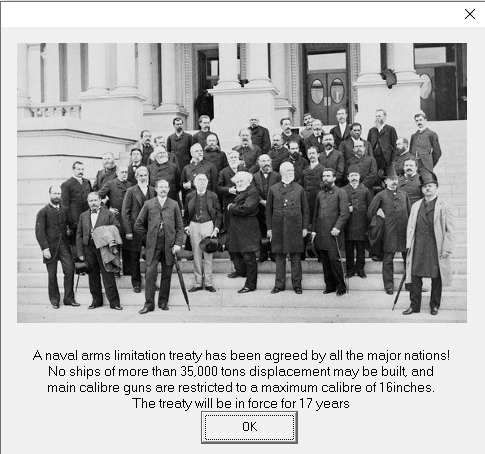 I wasn't for it, but France signs another naval treaty. The limitations on this one are a bit less restrictive—35,000 tons, 16″ guns—but the concomitant budget hit means I'm going to have to delay or cancel some projects.
November 1928
An improved torpedo bomber enters service, nearly identical to our current model but with slightly longer range and slightly better speed.
In technology news, we've unlocked AA directors (which improve the accuracy of anti-air guns, and should be refit onto our ships as we have time) and triple turrets for light cruisers, which should make for some designs with better weight efficiency.
January 1929
We come to the end of another update, tragically much shorter than I had hoped it might be, given the joys of wartime budgets.
Fleet Report 1929
I haven't provided a full picture of the fleet in some time, so I thought I'd do so in this update.
Battleships
Devastation, built in 1910 and rebuilt in 1916. 22 knots, 8 12″ guns in four double turrets, including wing turrets with cross-deck fire. Mothballed. Candidate for retirement.
Lyon, built in 1912 and rebuilt in 1927. 26 knots, 6 15″ guns in three non-superfiring centerline turrets. In reserve.
Marseilles, a Lyon-class battleship built in 1912 and rebuilt in 1916. 24 knots, 6 15″ guns. Mothballed. Candidate for rebuild to 1927 spec (12 months, ~2300 funds per month) or retirement.
Redoubtable and Marengo, Redoubtable-class battleships built in 1913 and rebuilt in 1917. 22 knots, 10 12″ guns in four non-superfiring centerline turrets. In mothballs.
Requin, built in 1915 and rebuilt in 1923. Our first fast battleship. 25 knots, 12 12″ guns in four superfiring turrets. Active.
Ocean, built in 1923. First in our line of modern battleships. 26 knots, 8 14″ guns. Active.
Suffren, built in 1927. 26 knots, 8 14″ guns. Active.
Battlecruisers
Rouen and _Nancy, Rouen-class battlecruisers built 1915 and 1920. 27 knots, 9 12″ guns. Candidates for rebuild (would push speed to 29 knots, add AA armament). Active.
Heavy Cruisers
Montcalm and Bruix, Montcalm-class cruisers built 1919 and 1920. Slow for their role. 27 knots, 12 9″ guns. Candidates for retirement? One active, one in reserve.
Light Cruisers
Three Chateaurenault-class cruisers, built 1903-1905. Designed for cheap foreign service. Badly obsolete, but cheap to maintain, and they fill tonnage requirements overseas where most of our preferred opponents have no presence. 24 knots. 10 4″ guns. Active.
Two Pascal-class cruisers, built 1910. Also obsolete, but also filling tonnage requirements. 24 knots, 8 5″ guns. Active.
Two Lavoisier-class cruisers, built 1916-1917. 27 knots, 8 6″ guns with a 6-gun broadside. Might benefit in terms of maintenance costs from a rebuild, but a bit too old-school in design terms. In mothballs.
Five Troude-class light cruisers, built 1917-1919. 28 knots, 8 6″ guns with a 6-gun broadside. Similar situation to the Lavoisiers. One in mothballs, four active.
Four Condillac-class light cruisers, built 1924-1926. Exclusively for foreign service. 28 knots, 6 4″ guns, 6-gun broadside. Active.
Two Voltaire-class light cruisers, built 1927. Some of the best in the world, with mines, torpedo tubes, an all-centerline armament, and a dual-purpose secondary battery. 31 knots, 8 6″ guns. Active.
Aircraft Carriers and Seaplane Tenders
Commandant Teste, seaplane carrier, built 1923. 27 knots, 10 aircraft. Active.
Arromanches and Dixmude, light carrier, built 1925-1927. A bit slow, but still capable enough to keep on the books for years to come. 28 knots, 24 aircraft. Active.
Destroyers and Corvettes
Five miscellaneous obsolete destroyers, rebuilt 1919-1921 to serve as corvettes. In mothballs.
16 Harpon-class destroyers, built 1915-1919. Obsolete by the game's reckoning, but still reasonably efficient by the standards—speed and torpedoes—by which I judge destroyers. 33 knots, 3 3″ guns, 4 torpedo tubes. Active.
Seven Flamberge-class destroyers, built 1921. 35 knots, 3 4″ guns, 6 torpedo tubes. Active.
Four Glaive-class destroyers, built 1923-1925. 34 knots, 4 4″ guns, 6 torpedo tubes, 16 mines, anti-aircraft guns. Active.
Fifteen Carabinier-class destroyers, built 1926-1927. Built to serve as corvettes, in place of a similar number of obsolete 500-ton destroyers from the turn of the century. 26 knots, 2 3″ guns, 4 torpedo tubes, 6 mines. In reserve.
Seven Diamant-class corvettes, built 1918-1919. 20 knots, 2 4″ guns. In mothballs.
Comparison
Here's the national-comparison almanac page, so you can see how we stack up.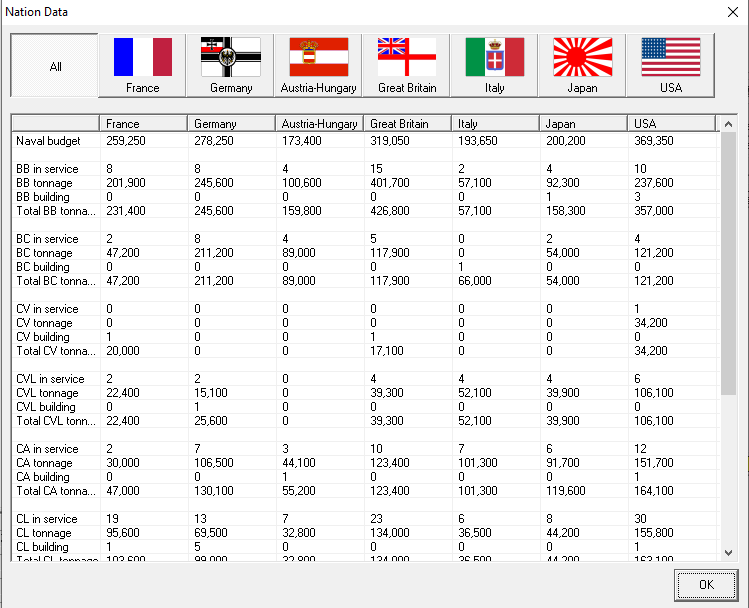 Plans and Intentions
In out-of-character news, the game's been updated to version 1.18, which has a number of changes of various impact. It also has an improved and updated manual, and a change to the order of events in a turn so that I can adjust ship statuses before the first battle in a war. Put another way, the first battle in a war (except for surprise attacks when Japan's involved) happens on the month following the outbreak of the war.
Budget
This is where things get tough. With some extremely aggressive mothballing and reserve-fleeting, here's how our budget looks right now.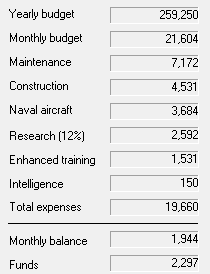 That is, we have about 6,500 funds per month. What does that buy? Some combination of the following.
4,000-4,200: an advanced battleship (see below, under Ship Design). ~36 months.
3,500: a standard battleship (like our existing series). ~36 months.
2,700: a heavy cruiser. ~24 months.
2,550: an aircraft carrier a la Bearn. Future carriers will carry more aircraft, because they'll be free of the requirement to have cruiser-style guns. ~24 months.
2,500: a rebuild of an existing battleship to use up-to-date machinery and add anti-aircraft capability. ~12 months.
1,550: a light cruiser a la Voltaire. ~18 months.
350: a destroyer a la Glaive. ~12 months.
There are four ships in the dockyards right now: Courbet, a standard battleship, Latouche-Treville, a heavy cruiser, Diderot, a light cruser, and Bearn, an aircraft carrier. Courbet and Latouche-Treville are paused for money reasons—we don't have enough surplus to resume construction on either one right now.
Diderot and Bearn will be complete in six months, which will free up just enough budget to finish Courbet and Latouche-Treville. Assuming that's what we do, Latouche-Treville will enter service in mid-1930, and Courbet will arrive right around the next update in early 1931.
Ship Design
The new treaty is the limiting factor on battleships again. We could make either a 27-knot, 16″ battleship within the treaty limits (~4000 funds per month), or a 30-knot, 14″ battleship (~4200 funds per month).
Or, we could continue to build existing budget battleships, like the ones we have now, and focus on other ships. Our destroyer force is weighted toward old ships right now, and it always seems like we need more light cruisers than we have.
What Next?
I didn't ask any direct questions above, on the theory that there's enough information that some ideas might be coming to you already. Are they? If so, what do you think we ought to do? How should we prioritize ships over these next two years, given our budget constraints? What should we do with the ~2,000 funds per month we have on hand now?