A classic question for fans of the PS3 was "What's your favorite Uncharted game?" Back then there were 3. Of course, we also have a PS Vita entry and the fantastic finale on the PS4. Today, I'll look at the original questions. I love Uncharted 4 to death, but it has a huge leg up on the rest, being on a newer console with notably better graphics and an improved engine.
Of course, we have engine improvements in Uncharted 1, 2, and 3 as well, but they're all on the same hardware, so it's something we can adjust a little better for. Uncharted 3 has the nicest unarmed combat system, featuring attacks, blocks/counterattacks, and grabs. It also lets you throw grenades back. Of course, this ended up leading to a ton of grenade spam fights, and that's honestly entirely too obnoxious. There are also a number of really frustrating encounters, moreso than in either Uncharted 1 or Uncharted 2. Uncharted 3 also loads up on the gimmicky characters that take away the efficacy of some of your toys. It has the highest number of fights that I found annoying.
From a story standpoint, Uncharted 3 also has story issues stemming from a rewrite necessitated by Graham McTavish, the voice actor for Charlie Cutter, getting a significant role in The Hobbit. This ended up pulling him out of the production of Uncharted 3, forcing a number of story changes. Part of the reason I play the Uncharted games is for the story, and this doesn't help things.
I really want to love Uncharted 2, because it has some of my favorite set pieces. But it also has a super obnoxious boss fight, and that is some bullshit. And then there's this guy.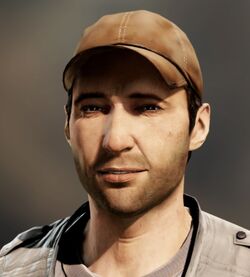 Jeff. Elena's cameraman. His role in the story is to prove that Nate loves Elena, and then to get out of the way. By dying. After being shot but not before you have to endure an excruciatingly aggravating sequence where you have to carry Jeff through a running gun battle. Have fun trying to play a cover shooter when you can't use cover. In the finest tradition of Galaxy Quest, we can see that Jeff's only role is to die to prove that the situation Nate's love for Elena is serious because he doesn't have a last name.1 We know everyone else's last name.
It's also one of the less well done parts of the game, frankly. I get that Elena is Nate's true love. And I get that they're right for each other. Sure. But the way that gets presented in Uncharted 2 isn't all that great. Honestly, Chloe seems like the better choice for most of that game. It would have been better to explore Elena's character more. More time building that, less time carrying some idiot who's going to die in the next scene.
Uncharted 1 has the least graphical polish, and the least nice fight mechanics, but the best story by far. Really the only annoyance is the sixaxis system, which is forced into it as an early PS3 title. While these are annoying, they're not a huge deal, and it's the one problem that gets completely rectified in the Uncharted HD Collection. Fixed grenade controls make Uncharted 1 a joy.
And of course, the other reason to leave out Uncharted 4 is that it's really the best of the lot. Better controls, nice combat, stunning vistas, and a fun story.
---
Apparently you can find one in the asset files if you dig around in the HD collection on PS4, but those are hardly called out in the narrative/dialog/anywhere you might actually notice. ↩