HK has released a new rifle!
Okay, it's for armies. More specifically, it's for the Bundeswehr. It seems a lot like a G36 version 2.0. Let's take a look.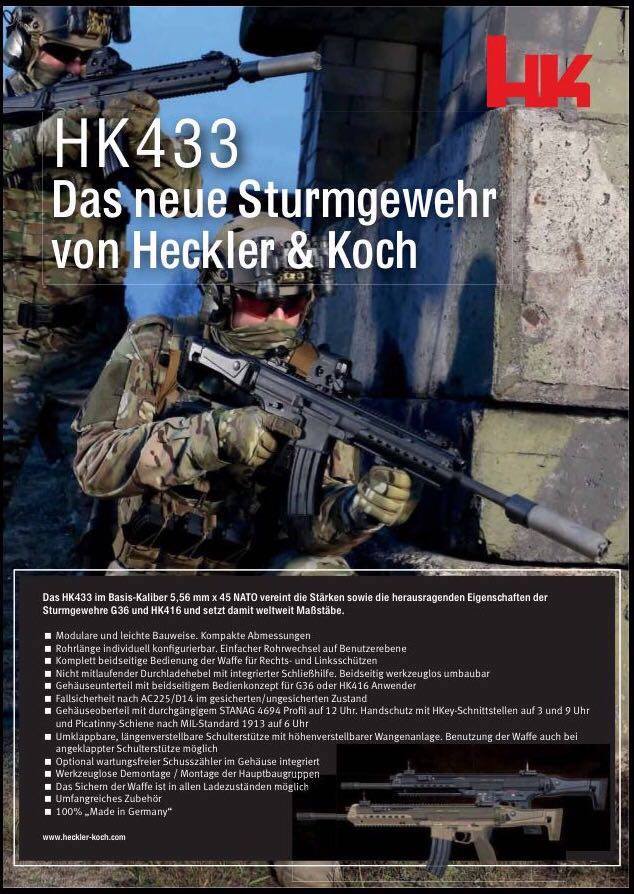 It's a 5.56 rifle, with an adjustable folding stock. The stock looks an awful lot like what was on the canceled XM-8. Or the SCAR. It's got a charging handle mounted forward like on a G3. There's a negative mounting system, which is HKlok1. Mag release is available in a G36 type paddle or the AR-15 type button. Bolt release is at the front of the trigger guard, again like the XM-8.
Larry Vickers has a source saying this rifle was designed for the Bundeswehr because the HK 416 was too expensive.2 Or something.3 And, I guess it'll be cheaper to make than a 416. But let's break it down.
Does this change our choice to go with the HK 416 in the Borgundy Procurement Games? Nein. To be honest, other than being the cheap version of the 416, the 433 does not impress me. The HK 416 is HK's take on the AR-15 platform. It's got some ambidextrous controls, a heavier barrel, nicer handguard, and that short-stroke gas piston system, but it's still mostly AR-15. And I'm really not seeing improvements anywhere over the basic AR-15 design, unless you start with exotic ammo or require a bullpup layout.
A charging handle out front is going to get in the way of lights and lasers that you might mount. Which are increasingly popular for night operations. Frankly, there's no good place for the charging handle. The AR's might not be ideal to get to easily, but it's out of your way the rest of the time, and the rifle is designed to minimize the number of times you have to run the AR-15 charging handle in the absence of a malfunction. And when you do, you won't smash your knuckles on an optic or have to fish around your laser/IR illuminator unit.
The choice of HKlok is increasingly suspect. First, I'd still support picatinny rails, for most military applications, because there are so many picatinny-compatible accessories in the inventory. And if you were going to go with a newer, lighter 'negative mounting' method, the right answer is Mlok. Because it's gotten more industry support faster, and it's also available as an option on a number of Colt Canada's latest rifle offerings. Plus, it's also used on the HK CSASS handguard that won the latest US Army semiautomatic sniper rifle competition. Unless they want to lock themselves out of a ton of future aftermarket offerings, HKlok doesn't make sense to me.
The other thing that's bothered me is that this looks an awful lot like HK's take on the FN SCAR design. Which is fine, I guess, except that the HK 416 keeps beating the FN SCAR in procurement competitions. So why bother trying to compete again with a loser? You're winning with the 416. Don't split the baby. Don't split the production capacity. Stick with the 416 everyone likes.
I guess it's an upgrade on the G36. But I still don't see why it's worth the bother. I suppose being a freaking special snowflake and wanting a Different Gun Because It's Different transcends national borders.
---
It's like Keymod, but backwards. ↩
No really. Too expensive. Nevermind that the French bought it. Seriously, the Bundeswehr is just sad and pathetic these days. ↩
Maybe it looked too American? Maybe they couldn't stand using the same rifle as the French? Even if it's made in Germany and actually good. ↩